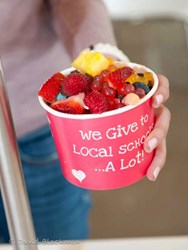 We're on a mission to do something good with this business, and our thing is education. - Smart Cow Yogurt Bar founder, Robyn Kuhlmann
Menomonee Falls, WI (PRWEB) October 18, 2013
More of Wisconsin's favorite self-serve frozen yogurt -- and more funding for schools -- is coming to Menomonee Falls as Smart Cow Yogurt Bar opens its fifth location. The new store will open on Friday, October 25, 2013.
In keeping with the owners' mission of supporting schools, this location will regularly donate part of an entire day's sales to a neighborhood school as a part of the company's Grassroots Tuesdays program. During their Grand Opening event on November 11-14, the new Smart Cow Yogurt Bar shop will donate part of the entire day's sales four days in a row to four neighborhood schools.
"We're on a mission to do something good with this business, and our thing is education," says Robyn Kuhlmann, who with her husband, Hans, and partner, Steve, created the unique "froyo for education" concept, opening their first store in Colorado in May 2011. "Budget cuts have been challenging for schools across our nation, and we want to help schools fund things that are important to their students' learning."
The benefits of Smart Cow Yogurt Bar's Grassroots Tuesdays program have ranged from helping student councils fund school dances to helping schools create new playgrounds.
"Smart Cow Yogurt Bar is leading the way in school partnerships. With their support not only did we earn enough money to purchase much needed basketball equipment, we were able to continue to provide every student with a new book on their birthday," Helen Keller Elementary Principal Kim M. Spychalla said.
To date, the company has donated over $64,000 to schools in its Wisconsin and Colorado communities. The new Menomonee Falls location in Wisconsin will be run by Jenny Bisswurm.
Smart Cow Yogurt Bar offers 16 rotating flavors of self serve frozen yogurt and sorbet, along with dozens of toppings, from fresh fruit to nuts and candies. Customers fill their own cup, add toppings, then weigh and pay by the ounce.
Learn more about Smart Cow Yogurt Bar's fantastic flavors at http://www.smartcowyogurt.com, and Like the Facebook Page for their new Menonomee Falls, WI, location at https://www.facebook.com/SmartCowYogurtBarMenomoneeFalls.