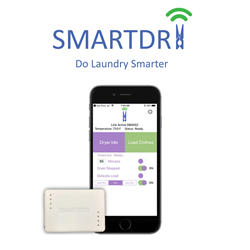 Our customers have been surprised and delighted with the time and energy they start saving with SmartDry right from the first load," says Connected Life Labs CEO, David Bambrick
SOMERSET, N.J. (PRWEB) June 18, 2019
Connected Life Labs announces the release of SmartDry, a patented new product that connects any clothes dryer to a smartphone via a simple, easy-to-use app. This innovative smart home product helps homeowners save time, energy, and money by sending users useful alerts on the status of their laundry.
Clothes dryers are notoriously inaccurate in monitoring both temperature and dampness of clothes. Most dryers run well after the clothes are actually dry. This can be damaging to clothing and wastes time, energy, and money. SmartDry's patented technology determines the exact point at which the clothes are dry and immediately sends an alert to the user's smartphone. SmartDry users are saving over 15 minutes per load and up to $60 per year. Additionally, for the environmentally conscious, all that saved run time can reduce a homeowners' carbon footprint by 300 pounds of CO2 per year!
SmartDry comes loaded with features such as the "delicate" setting that alerts users when their dryer could potentially shrink and destroy sensitive garments. It also has a handy alert that reminds users when their dryer has stopped. In terms of safety, SmartDry can identify high-temperature conditions that may indicate the possibility of dangerous clogged dryer vents. For homes with dryers in inconvenient locations (upstairs, downstairs, garage, etc.) users can be alerted to their dryer's status from anywhere. This means no more running up or down stairs to see if the dryer has stopped or clothes are dry. Homeowners can now get intelligent alerts sent right to their smartphone and can check the status via the app anytime!
PLUS, SmartDry is Amazon Alexa compatible— Simply ask Alexa if your clothes are dry!
"As a company, we want to have a positive impact on our customers' lives by saving them time and money while reducing their carbon footprint. When designing SmartDry, we wanted to make a product that gives its users real returns. We are committed to making a positive impact on the environment as well, and we aim to reduce the excess usage of one of the home's biggest energy users: the clothes dryer. Our customers have been surprised and delighted with the time and energy they start saving with SmartDry right from the first load," says Connected Life Labs CEO, David Bambrick.
SmartDry is available for sale on Amazon today and the app can be downloaded from the Apple App store or Google Play store. Each SmartDry package includes a patented smart sensor, hub, USB plug, and 2 batteries.
About Connected Life Labs:
Connected Life Labs is based in Somerset, New Jersey. It develops innovative and purposeful IoT products designed to enhance our lives and the environment through technology.