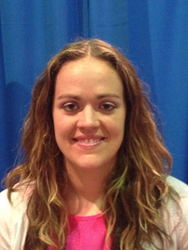 Amber has proven herself time and again as someone who can work closely with customers to thoughtfully address complex solution needs
Austin, TX (PRWEB) June 02, 2015
Smarter Security, Inc., provider of premium, innovative entrance control and outdoor security solutions, today announced that Amber Guerin has joined the company as the Midwest Region Sales Manager. Guerin is responsible for selling Smarter Security's Fastlane® optical turnstiles, Door Detective®, and outdoor security solutions to help organizations improve their building entry control and perimeter security. Guerin serves customers and will work to grow Smarter Security's business in 10 states in the Midwest.
"Amber has proven herself time and again as someone who can work closely with customers to thoughtfully address complex solution needs," said Jeff Brown, CEO of Smarter Security. "We are excited to have her join our sales team and build upon the large footprint of successful installations we have in Chicago, Minneapolis and other parts of the Midwest. Her prior experience with networking solutions will be an asset as the adoption of the IP capability of Fastlane turnstiles and our other solutions grows."
Guerin comes to Smarter Security from Anixter in Chicago where, for four years, she sold surveillance and access control systems and worked closely with end users and systems integrators. Prior to Anixter, Guerin was an Enterprise Sales Solutions Manager for Belden, selling networking and communications solutions for several years. A member of ASIS, Guerin is a Chicago native and lives and works in the Chicagoland Area.
About Smarter Security, Inc.
Smarter Security provides premium and innovative entrance control and outdoor security solutions to help organizations protect their people and assets in a world of ever-present threats. Since 1992, Smarter Security has offered Fastlane turnstiles, the most elegant and intelligent optical turnstiles available, which protect thousands of commercial and governmental lobbies on six continents. Smarter Security also offers perimeter intrusion detection systems, including SmarterFence, a fiber optic fence-mounted sensor. For more information, please visit http://www.smartersecurity.com.
Fastlane and Door Detective are registered trademarks of Integrated Design Limited.