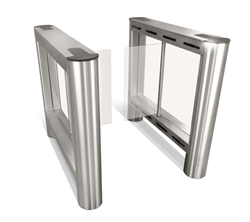 We are excited about bringing our U.S.-market-leading optical turnstiles and other security solutions to Mexico.
Austin, TX (PRWEB) June 30, 2014
Smarter Security, Inc., provider of premium, innovative entrance control and outdoor security solutions, today announced it has formally entered the Mexico market and will offer its physical security solutions to organizations south of the border. Engagements with Mexican companies have demonstrated that the country is a prime market for the company to grow its sales and serve more customers. Smarter Security is aggressively seeking partners to help develop its business within Class A buildings, large corporations, government agencies, and other institutions.
"We are excited about bringing our U.S.-market-leading optical turnstiles and other security solutions to Mexico," said Jeff Brown, CEO of Smarter Security. "Crime, vandalism, and unrest are hurting organizations throughout the country. Our Fastlane® products offer a premium aesthetic appeal, while our Door Detective® units offer an additional layer of security once inside a building. Our technology detects many kinds of unauthorized entry attempts including social engineering, one of the most dangerous. The Mexican market appears to value the premium aesthetics of Fastlane designs and will appreciate the other compelling advantages of our security solutions. In addition to internal security, Smarter Security provides a unique product set for securing outdoor assets."
Smarter Security has an employee living in Mexico City short-term to assist in accelerating the development of the company's business in the capital city and throughout the country. The company has a strong sales partner and is earnestly seeking additional partners who can help supplement the sales and support services Smarter Security will bring to the geography. The company has easy access to the country as its headquarters in Austin, Texas is closer to Mexico City than to Washington D.C. and all of the top three metro markets in the United States.
Smarter Security offers Fastlane optical turnstiles, and with thirteen models of barrier and non-barrier units, has the broadest selection in the industry. For the last five years, Fastlane has led the market in North America, per IHS Research. Smarter Security also provides Door Detective, a solution to better secure access controlled doors with tailgate detection, direction control, and anti-passback support. Perimeter security offerings from Smarter Security in Mexico include SmarterFence™, a fiber optic, fence-mounted intrusion detection system and SmarterBeam™, a passive infrared outdoor motion detector. Documents in Spanish that describe all of these solutions can be found on the company's web site at http://www.smartersecurity.com/product-resources/documentation.
About Smarter Security, Inc.
Smarter Security provides premium and innovative entrance control and outdoor security solutions to help organizations protect their people and assets in a world of ever-present threats. Since 1992, Smarter Security has offered Fastlane turnstiles, the most elegant and intelligent optical turnstiles available, which protect thousands of commercial and governmental lobbies on six continents. Smarter Security also offers perimeter intrusion detection systems, including SmarterFence, a fiber optic fence-mounted sensor. For more information, please visit http://www.smartersecurity.com.
Fastlane and Door Detective are registered trademarks of Integrated Design Limited.
# # #