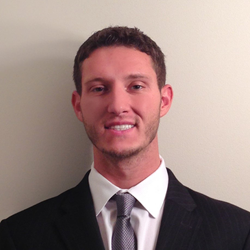 Stefano brings many connections from the area, is a great hunter to help us find projects, and has the consultative selling skills and customer-orientation to make an impact for Smarter Security
Austin, TX (PRWEB) November 30, 2015
Smarter Security, Inc., provider of premium, innovative entrance control and outdoor security solutions, today announced that Stefano Wildermuth has joined the company to be its first New England Region Sales Manager. Wildermuth will leverage his background in account management, his sales expertise, and his stellar track record in customer service to grow Smarter Security's business in the six New England states and upstate New York.
"We have seen significant growth in the need for our security solutions across the northeast in the last few years," said Jeff Brown, CEO of Smarter Security. "Investing by putting a salesperson on the ground in Boston is a great step forward for our customers and prospects in the region. Stefano brings many connections from the area, is a great hunter to help us find projects, and has the consultative selling skills and customer-orientation to make an impact for Smarter Security."
Wildermuth comes to Smarter Security from Anixter International Inc., where he was responsible for regional territory growth in Massachusetts, Maine, New Hampshire, and Rhode Island. For four years, Wildermuth worked closely with security integrators and network contractors, prospected and developed new accounts, provided innovative supply chain management, and was an acting point-of-contact for customers. His main areas of emphasis included network infrastructure, security, and In-Building Wireless (IBW).
About Smarter Security, Inc.
Smarter Security provides premium and innovative entrance control and outdoor security solutions to help organizations protect their people and assets in a world of ever-present threats. Since 1992, Smarter Security has offered Fastlane turnstiles, the most elegant and intelligent optical turnstiles available, which protect thousands of commercial and government lobbies on six continents. Smarter Security also offers perimeter intrusion detection systems, including SmarterBeam, a wireless passive infrared motion detector. For more information, please visit http://www.smartersecurity.com.