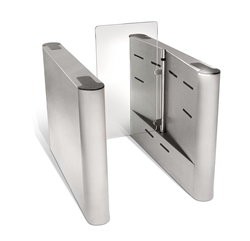 We are excited to be working again with this customer that made a wise decision to automate the lobby security at another location
Austin, TX (PRWEB) October 29, 2014
Smarter Security, Inc., provider of premium, innovative entrance control and outdoor security solutions, today announced a leading technology company selected Fastlane Glassgate® 200 optical turnstiles to upgrade lobby security for multiple buildings. Already using the same Fastlane® model in three other locations, the company placed its largest order with Smarter Security to enhance security while saving manpower costs on a campus in the western United States.
"We are excited to be working again with this customer that made a wise decision to automate the lobby security at another location," said Jeff Brown, CEO of Smarter Security. "We upgraded Glassgate 200 to an IP turnstile since the customer's first installation, and it remains a very popular model after its sleek styling revolutionized the industry in 2006. Today, we have many more barrier turnstiles with an impressive R.O.I. that can enable a reduction in security staffing while better securing the workplace."
The technology company ordered identical sets of Glassgate 200 lanes from Smarter Security for five buildings in order to secure lobby access to the elevators. The company took this action in order to reduce the security officer staff it had working the building entrances and to save the associated annual operating costs. With appreciation for Fastlane Glassgate 200 at other corporate sites around the country, this model was an obvious choice. To provide higher security, the customer chose a barrier height of nearly five feet. And unlike other turnstile brands, Fastlane's speed of throughput relieved the local facility manager's concern that the barriers might result in unpleasant lines for workers.
Smarter Security's Fastlane Glassgate 200 is an optical turnstile with swinging glass barriers that can be up to five feet high. The barriers open quickly for authenticated users, and one person per second can pass through the lane because the barriers will stay open for other authenticated workers following closely behind. Intelligent Fastlane optical technology is designed to alarm when intruders and tailgaters try to enter, while ignoring objects such as bags and umbrellas; this further supports fast office access. Fastlane Connect puts Glassgate 200 on a network and enables the lanes to be managed, diagnosed, or updated remotely via a web browser or desktop console.
About Smarter Security, Inc.
Smarter Security provides premium and innovative entrance control and outdoor security solutions to help organizations protect their people and assets in a world of ever-present threats. Since 1992, Smarter Security has offered Fastlane turnstiles, the most elegant and intelligent optical turnstiles available, which protect thousands of commercial and governmental lobbies on six continents. Smarter Security also offers perimeter intrusion detection systems, including SmarterFence, a fiber optic fence-mounted sensor. For more information, please visit http://www.smartersecurity.com.
Fastlane and Fastlane Glassgate are registered trademarks of Integrated Design Limited.