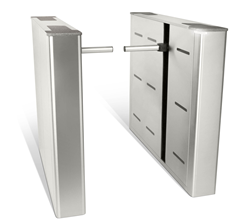 We are proud to be Manhattan's dominant turnstile brand, securing over 120 of its monumental buildings, and we're excited to be chosen to help secure this new distinctive building as well.
Austin, TX (PRWEB) October 15, 2014
Smarter Security, Inc., provider of premium, innovative entrance control and outdoor security solutions, today announced a New York City high-rise selected Fastlane Plus AS optical turnstiles to secure its building lobby. The unique design of the upcoming building led to architectural requirements for custom turnstiles that complement the space. The building owner appreciates Fastlane® in some of its other properties and with this new building, embraces the efficiencies, cost savings and appeal of the IP and smartphone technologies Smarter Security offers.
"We are proud to be Manhattan's dominant turnstile brand, securing over 120 of its monumental buildings, and we're excited to be chosen to help secure this new distinctive building as well," said Jeff Brown, CEO of Smarter Security. "Though we have the industry's broadest selection of optical turnstiles, we frequently work closely with architects to design special pedestals to complement their vision for the lobby. This customer is one of those cases, and is a fine example of the unmatched combination of high technology and high design available when you choose Fastlane."
The customer ordered multiple lanes of Fastlane Plus AS as well as Fastlane Intelligate from Smarter Security to secure the lobby entrance to the multi-tenant office tower. The pedestals are unique to the building by having a custom metal finish, harder edges, and other special treatments. The Intelligate ordered for VIP entries and deliveries has complementary custom treatments. While the building owner has different Fastlane models in other buildings, it chose Fastlane Plus AS because it wants to have the turnstiles in an open mode at times, where the barrier arms would normally be retracted and rise quickly to block an unauthorized individual who enters the lane. To assist tenants and visitors in getting to their office suites more quickly, lift displays for elevator destination control will be placed in the turnstile tops to direct users to the most efficient elevator to ride.
This New York City high-rise is one of Smarter Security's first customers to order the new FastScan PS, a dual reader technology that reads QR codes from smartphone screens to process visitors quickly through the lanes. Sending visitors an email with a unique QR code will greatly reduce consumption of paper ticket stock, saving the building "thousands of dollars a month" and reducing the environmental impact of its operations. And by using Fastlane Connect to manage the turnstiles over an IP network, the building will further reduce costs and ease management.
Smarter Security's Fastlane Plus AS is an optical turnstile with aluminum barrier arms that drop into the pedestal body upon user authorization. Its Normally Open mode provides barrier security while projecting a more open appearance in the lobby. Unique in the industry, Fastlane Plus barrier arms breakaway in the travel direction to enhance user safety while still sounding alarms. Fastlane Plus AS works with the access control system to allow up to sixty people per minute to enter. Intelligate is a wide access gate with swinging glass barriers used for large groups or package deliveries. It also provides intelligent tailgate detection to secure this entry point from intruders.
About Smarter Security, Inc.
Smarter Security provides premium and innovative entrance control and outdoor security solutions to help organizations protect their people and assets in a world of ever-present threats. Since 1992, Smarter Security has offered Fastlane turnstiles, the most elegant and intelligent optical turnstiles available, which protect thousands of commercial and governmental lobbies on six continents. Smarter Security also offers perimeter intrusion detection systems, including SmarterFence, a fiber optic fence-mounted sensor. For more information, please visit http://www.smartersecurity.com.
Fastlane is a registered trademark of Integrated Design Limited.