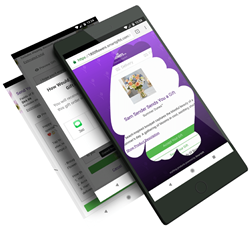 In working with SmartGift, we've been able to further enhance the customer experience, making it even easier for shoppers to deliver smiles.
New York, NY (PRWEB) October 22, 2018
New York, NY, Oct. 22, 2018 -- The Mobile Marketing Association (MMA) revealed the winners of the 2018 Global Smarties Awards and the North America Regional Smarties following a celebration of talent.
SmartGift and 1-800-Flowers.com were honored with the Global Gold and North America Gold in the Mobile Payments / Commerce category for driving business impact and experience execution through the power of mobile.
The teams also collected the North America Silver award in Messaging for utilizing SMS as a platform to humanize the digital gift exchange leading to higher customer engagement and conversion.
The winners were selected by the MMA's independent North America juries comprised collectively of 46 renowned, senior brand and agency professionals under the guidance of jury presidents, Peter McGuinness, Chief Marketing & Commercial Officer at Chobani and Norman De Greve, Senior Vice President and Chief Marketing Officer, CVS Health, for the Global and North America competitions, respectively.
"To be recognized in such transformative categories as mobile payments/commerce and messaging on a global level is an amazing honor. We are thrilled to continuously innovate with our partner 1-800-Flowers.com and keep pushing the boundaries of what's next," said Monika Kochhar, CEO and founder of SmartGift. "Winning these coveted awards highlights our leadership in gift commerce innovation as well as our commitment to providing best-in-class mobile experiences and results for all of our brand partners."
"I am proud of our team's hard work on this initiative and thrilled to see it recognized by the MMA," said Amit Shah, Chief Marketing Officer, 1-800-Flowers.com. "In working with SmartGift, we've been able to further enhance the customer experience, making it even easier for shoppers to deliver smiles."
The 2018 entries were first pre-screened by a council comprised of over 100 senior level mobile marketers prior to judging by the independent jury. The campaigns are judged on four criteria with business impact accounting for 40 percent of each entrant's overall score while creative, strategy and execution each made up 20 percent. A video highlighting the 1-800-Flowers.com and SmartGift campaign can be watched here.
About SmartGift
SmartGift is a next generation consumer and personalization platform for brands and retailers that empowers their customers to buy for others with confidence. Its quick, easy and smart flow solves for the shopping persona when people are gifting or purchasing for others by removing the inherent friction. SmartGift is a conversational, peer to peer, gift first pay after model that opens new opportunities for online commerce. The deep insights that the company gathers helps retailers and brands to become more people-centric in their marketing and personalization experiences. For more information about SmartGift visit https://smartgiftit.com/.
About the Mobile Marketing Association (MMA)
The MMA is the world's leading global non-profit trade mobile marketing association comprised of more than 800-member companies, from nearly fifty countries around the world. Our members hail from every faction of the mobile marketing ecosystem, including brand marketers, agencies, mobile technology platforms, media companies, operators and others. The MMA's mission is to accelerate the transformation and innovation of marketing through mobile, driving business growth with closer and stronger consumer engagement. Anchoring the MMA's mission are four core pillars; to cultivate inspiration by driving innovation for the Chief Marketing Officer; to build the mobile marketing capabilities for marketing organizations through fostering know-how and confidence; to champion the effectiveness and impact of mobile through research providing tangible ROI measurement; and to advocate for mobile marketers. Additionally, MMA industry-wide committees work collaboratively to develop and advocate global best practices and lead standards development.
Members include: 1-800-Flowers.com, AdColony, Allstate, Ally Financial, American Express, AT&T, Bank Of America, Campbell's, JPMorgan Chase, Chobani, Choice Hotels, Citi, Clear Channel Outdoor, Colgate- Palmolive, Dunkin' Brands, eBay, E*TRADE, Electronic Arts, ESPN, Facebook, Ford, Foursquare, Google, GroundTruth, , Hilton Worldwide, IBM Watson, LinkedIn, Marriott International, Match Group, Mastercard, McDonald's, Microsoft, MillerCoors, OpenMarket, Pandora, Pfizer, Pinterest, PlaceIQ, Procter & Gamble, R/GA, RetailMeNot, Salesforce, Samsung, Snap Inc., Spotify, SUBWAY, Target Inc., The Coca-Cola Company, , T- Mobile, TUNE, Turner Broadcasting, Twitter, Uber, Ubimo, Unilever, Vibes, Walmart, Zurich and many more. The MMA's global headquarters are located in New York with regional operations Asia Pacific (APAC), Europe/Middle East/Africa (EMEA) and Latin America (LATAM). For more information about the MMA please visit http://www.mmaglobal.com.