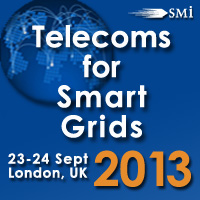 London (PRWEB UK) 26 August 2013
The Department of Energy and Climate Change announced on 14 August the preferred bidders for the competitions it has conducted on behalf of industry to put in place the shared infrastructure needed to roll out smart meters across Great Britain. These competitions will put in place the Data and Communications Company which is responsible for linking 53 million smart electricity and gas meters in homes and small businesses with the business systems of energy suppliers, network operators and energy service companies. DECC expects to make a statement to Parliament in early September once contracts have successfully been concluded. DECC expects suppliers to be ready to start their full scale roll-out by autumn 2015, supported by the DCC services, with the mass roll-out completed by the end of 2020.
Our 3rd annual conference, Telecoms for Smart Grids, will address the current development of both UK and European communications and data infrastructures for Utilities. Shortly after the DECC statement to Parliament in September, the two-day conference is ideally timed to provide excellent networking opportunities with a line-up of 22 thought leaders and experts, including 11 Utility case studies, with speakers consisting of: UK Power Networks, Alliander, Scottish and Southern Energy, ESB, Western Power Distribution, Scottish Power, E.ON, RWE AG, Enel Distribuzione SpA, Stedin, and Eco Island among others.
Speaker Panel includes:

Gordon Hewitt, ICT Project Manager, Scottish and Southern Energy
David Ross Scott, Industry Relationship Manager, Scottish Power
Tim Manandhar, Low Carbon Solutions Design Manager, UK Power Networks
Nigel Bessant, Project Delivery Manager, Scottish and Southern Energy
Sanna Atherton, Senior Project Manager, Western Power Distribution
Denis O'Leary, Head of Smart Energy Technologies, ESB
Ashley C. Brown, Counsel to Greenberg Traurig, and Executive Director Harvard Electricity Policy Group, Harvard University
Markus Hofsaess, Technology & Solutions, E.ON
Erik Moll, Telecom Policy Advisor, Alliander
Giovanni Coppola, Innovation Manager, Enel Distribuzione SpA
Gunnar Hoffman, Manager of Technology Corporate R&D, RWE AG
Milo Broekmans, Senior Enterprise Architect, Stedin
To view the full speaker line-up and completed conference programme, visit http://www.smi-online.co.uk/2013telecomsforsmartgrids8.asp .