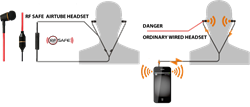 Dr. Gisela Mercada-Deane, chair of radiology at the American Academy of Pediatrics​, made the announcement that the current FCC test do not take children into account. Their skulls are thinner and can absorb more radiation
Madeira Beach, FL (PRWEB) November 30, 2015
According to RF Safe, the November 2015 issue of Consumer Reports magazine, quoted Michael Hansen, Ph.D., a senior scientist at Consumer Reports as supporting a "A Call for Clarity" on cell phone radiation exposure, and even more so for a child's exposure limits.
The original Nov 2015 CR story titled, "Does Cell-Phone Radiation Cause Cancer?" http://www.consumerreports.org/cro/smartphones/cell-phone-radiation
Earlier this month (Nov 2015), Dr. Gisela Mercada-Deane, chair of radiology at the American Academy of Pediatrics​, made the announcement that the current FCC test do not take children into account. Their skulls are thinner and can absorb more radiation, he said.
In a letter to the FCC, the American Academy of Pediatrics asked that the guidelines, last updated in 1996, be revised to account for cell phone users today, particularly children.
The CR story makes three points that should raise a major concern among all parents about how children use wireless devices, and how to limit a child's microwave radiation exposure.

The Federal Communications Commission's cell-phone radiation test is based on the devices' possible effect on large adults, though research suggests that children's thinner skulls mean they may absorb more radiation.
Consumer Reports agrees with concerns raised by the American Academy of Pediatrics and the Government Accountability Office about the tests, and thinks that new tests should be developed that take into account the potential vulnerability of children.
We think that cell-phone manufacturers should prominently display advice on steps that cell-phone users can take to reduce exposure to cell-phone radiation.
RF Safe also agrees with the 3 main points CR suggested for clarification by the FCC. RF Safe has specialized in mitigating the harmful effects of cell phone radiation for over 15 years. While cellphone manufacturers aren't likely to display advice on steps that cellphone users can take to reduce exposure to cell phone radiation – RF Safe does!
What's the First Step Consumers Should Take To Protect Their Children?
John Coates, Founder of RF Safe, says "distance from the source of radiation is a very important aspect to reduce RF intensity, and that's what RF Safe's Mono Air-tube Headsets provide – distance from the source of radiation".
Today's 24hr Holiday Super Savings Sale offers RF Safe's (Single Bud) Mono White or Mono Black Air-tube headset at 50% Off!
There is no better way to practically eliminate cranial exposure to microwave radiation from today's popular smartphones when privacy is needed, and text or speaker phone isn't an option!
Here's RF Safe's 24Hr Holiday Super Savings Deal!
Regular price: Mono Air-tube Headset $39.99 – Today Only 19.98ea!
No limit per customer! (24hr sale while supplies last)
RF Safe has 1000 available at this low price at the time of this press release. Don't wait buy now!
The Holiday Shopping Gets Better For The Whole Family!
Now offering a Family Cell Phone Radiation Protection Plan! Order 4 or more Mono White or Black Air-tube Headsets at 50% off and get free shipping anywhere on earth!
The savings don't stop there either, all other items sold at https://www.rfsafe.com are 10% off store-wide!
Visit RF Safe's Holiday Sale Page for complete details on the best deal on cell phone radiation protection accessories.
(Get Protected - Start Holiday Shopping Here)
About Radio Frequency Safe – Cell Phone Radiation SafetyRF SAFE is a world-leading provider of cell phone radiation protection accessories and informational safety data. Since 1998 RF (Radio Frequency) Safe has been dedicated to evolving the wireless industries safety standards, by engaging in the business of design, testing, manufacture, and sale of safety technologies to mitigate harmful effects of cell phone radiation.