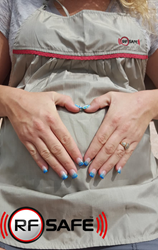 "If there is a risk and we don't find out about it for five or ten years from now, we're going to see a whole cluster of young people with breast cancer," said Dr. John West.
(PRWEB) October 06, 2016
RF Safe, the world's premier provider of cell phone radiation protection accessories and informational safety data wants consumers to be aware of the danger of cell phone radiation and breast cancer.
When a cell phone is in a front pocket, or carried in a bra, radiation can penetrate the area much deeper into the body.
"For many young women today, tucking cell phones in the bra has become a cool, hip way to have simple access to these essential devices. Most of us have no idea that cell phones are small microwave radios that should not be kept directly on the body." Says Dr. Devra Davis, epidemiologist, author and public health advocate.
In 2013, Dr Oz featured 21 year old Tiffany Franz, who felt her breast cancer had developed after between four to six years of carrying her cell phone in her bra. "It just so happened her tumors were exactly where her cell phone had been against her skin, her bare skin, for about six years," said her mother, Traci Frantz.
Earlier this year, a study conducted by the National Toxicology Program (NTP), a branch of the National Institute of Health, found that cellphone radiation increases the risk of cancer.
May, 2016-NTP reports results from their two year study.
RF Safe suggests a few simple things that can be done to greatly reduce cell phone radiation exposure.

Don't hold a cellphone directly up to your head. Use an RF Safe air tube headset or speakerphone to talk on the phone.
Pregnant women should ALWAYS keep cellphones away from their abdomen and men who wish to become fathers should never keep phones on in their pocket without RF Safe Approved microwave radiation shielding between a user and wireless device.
Don't allow children to play with or use a cellphone. Older children should use an RF Safe headset when talking or playing music on a smartphone.
Turn off your wireless router at night to minimize exposure to radiation.
RF Safe's new line of cell phone radiation safe apparel features comfort and 360 degrees of protection.
Stay up-to-date on the latest information of cell phone radiation safety visit http://www.rfsafe.com
ABOUT RADIO FREQUENCY SAFE – RFSAFE.COM
Since 1998 RF (Radio Frequency) Safe has been dedicated to evolving the wireless industries safety standards, by engaging in the business of design, testing, manufacture, and sale of safety technologies to mitigate harmful effects of cell phone radiation.