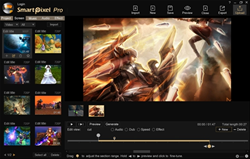 SmartPixel will always help you to capture your most exciting game moments as the best free game recorder
Guangdong, China (PRWEB) June 23, 2015
The SmartPixel screen recorder program from the company Beyond Magic Limited released new versions of their PC and mobile device programs. The game recorder and video editor two-in-one software now offers SmartPixel 4.0 for PC and 1.0 for the Android screen recorder.
"What you see is what you can record," said the company's spokesperson. "SmartPixel will always help you to capture your most exciting game moments as the best free game recorder."
The programs powerful but simple interface allows users to select what part of the screen they want to record and simply start recording.
Once a video has been recorded, SmartPixel allows users to easily edit their video into exactly what they want. Post-editing tools include video clipping, merging, splitting, dubbing as well as adding background music, subtitles, effects and filters.
"The amazing thing about SmartPixel is that users can upload any of their videos with touch of a button," said the company's spokesperson. "Share it with friends and the gaming community quickly and easily."
Users will also find that SmartPixel offers free video storage and play service through GoPlay, an online game video community. According to the website, GoPlay is a social network for mobile game players to share their game videos and make friends who have the same interests.
Beyond Magic Limited is dedicated to providing free video screen capture and free video editing software for windows users, said the company's spokesperson.
About SmartPixel
SmartPixel provides easy-to-use screen recording and video editing software to help hundreds of thousands users worldwide to create videos since June 2013 and launched a game video platform GoPlay.com in 2015 to provide free video storage and playing services for gamers worldwide. For more information, please visit http://www.smartpixel.com