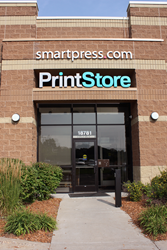 We've always put our customers first and it's because of them that we have pushed ourselves to constantly strive for the best.
Chanhassen, Minnesota (PRWEB) August 26, 2014
Smartpress.com has added two new presses to accommodate increased customer demand. The additional specialty presses and some new software upgrades will allow the digital printing company greater printing capacity to meet and exceed growing customer needs. Smartpress.com is a leading provider in online printing, offering a range of printing services that includes business card printing, invitation printing and other custom printing products.
Since its founding in 2009, Smartpress.com has grown at a rapid pace, driving the need for expanded facilities and increased digital printing capacity. The company started off the new year of 2014 by moving into a new 30,000 square foot building and adding two new presses: An HP Indigo 10000 Digital Press and a Xerox iGen 150 Digital Press. Though the addition of those presses greatly increased digital printing capacity, a little more than halfway through the year, Smartpress.com is adding yet two more presses to satisfy increased customer demand.
The new presses were chosen based on the qualities and capabilities that are important to Smartpress.com customers: Flexibility, quality, speed and cost savings. The HP Indigo 10000 Digital Presses offer incredible versatility with its 29-inch format capacity and the potential for more competitive pricing on long run print projects. The HP Indigo 7600 Digital Presses offer high-resolution printing at a fast pace, allowing for quicker completion of short run printing projects and reduction of turnaround times.
Additionally, Smartpress.com is in the process of upgrading the 7600 digital presses to HP Indigo 7800s. Once these enhancements are complete and the staff fully trained, the upgraded presses could further expand Smartpress.com's print capacity.
"We've always put our customers first and it's because of them that we have pushed ourselves to constantly strive for the best. When you do good work, people reward you with more work. When that happens, you absolutely have to be ready for it. Well, we're ready for it," said Chuck Reese, President at Smartpress.com. "Earlier this year when we moved to the new facility and got the first 10000, that was just a launching point. We want our customers to know that we are continuing to evolve our equipment, offerings and services to accommodate their existing and future printing needs."
Smartpress.com services a range of customers and business needs. Print buyers, graphic designers, photographers, freelancers, individual buyers, and small and medium-size businesses alike have found that Smartpress.com offers incredible, high-quality printing at competitive prices. In particular, the company has developed a niche market for serving customers who have their own designs, as well as booklet printing and white ink digital printing. In addition, they have a unique ability to serve customers with the variety of small and large format production.
Learn more about what makes Smartpress.com a smart choice for fulfilling online printing or digital printing needs: http://smartpress.com/pages/about-smartpress.
About Smartpress.com
Smartpress.com is the fastest, easiest way to buy print online. The company prides itself on world-class customer service and attention to detail with 100% outcome satisfaction. The Smartpress.com advantage is providing a simple ordering process with fast turnaround at competitive prices. This 100% employee-owned company uses state-of-the-art digital presses with a wide selection of paper stocks, and has the ability to deliver top-quality results in quantities as small as a single piece. Smartpress.com provides sophisticated finishing options including a wide variety of print media, mounting substrates, laminates and digital die cutting. The company also has the capability to print photographic quality, large format prints; backlit graphics; magnets; and banners. In addition, they can execute full variable data and cross-media direct marketing campaigns. To see the wide variety of offerings and to learn more, please visit http://smartpress.com.