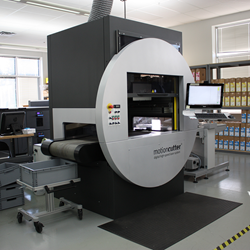 This is very exciting, it opens up a whole new world of possibilities for die cutting that have been cost-prohibitive in the past.
Chanhassen, Minnesota (PRWEB) October 30, 2014
Smartpress.com is proud to be the first company in North America to offer a new groundbreaking laser die cutting option to customers. This technology will allow the marketing and design community's preferred digital printing company to offer simple and complex die cutting options at a fraction of the price of traditional die cutting services. Smartpress.com is a leading provider in online printing, offering a range of services that includes booklet printing, invitation printing and other custom printed products.
Though die cutting has always been an option at Smartpress.com, the acquisition of a new MotionCutter® digital high-speed laser system has made it easier, quicker, and more affordable than ever. This marvelous piece of machinery can cut, kiss cut, crease, perforate, etch and personalize, all in a single pass. It's capable of running sheets of paper, stickers, magnet, cling vinyl and other materials on a conveyor belt at a fast rate of up to 128 feet per minute.
As the sheets pass under the laser head, cuts seem to appear as if out of nowhere with a flash of light and a puff of smoke. Each design is completed in mere seconds. The result is a clean finished piece that looks like it was precision cut with an impossibly sharp blade.
Laser die cutting is now available on a wide range of Smartpress.com digital print offerings, including cards, greeting cards, invitations and business cards, with more to be added in the future. The new machine accepts sheet sizes up to 20.5" by 29.5", which will allow for the creation of custom cut pocket folders, packaging and clings. Die cuts can be simple, such as creating a circular business card or scalloped edge on a wedding invite, to more complex designs, like an intricate honeycomb patterned cutout. In addition, customers can make a big impact by utilizing the variable NameCut® technology that cuts out the name of the recipient on the printed piece. Importantly, creating a PDF design file that includes digital die cutting only takes a few extra steps.
"This is very exciting, it opens up a whole new world of possibilities for die cutting that have been cost-prohibitive in the past. So exciting, in fact, that it's been hard to keep quiet about it until it could be delivered," said Chuck Reese, President at Smartpress.com. "Now that it's here, installed, and we've been putting it through the paces to see what it can really do, we're over the moon. The cuts are clean and fast, and that's even on exceptionally complex designs. We can't wait to see what our customers are going to do with this incredible new die cutting option."
Laser die cutting is just the most recent unique service introduced by Smartpress.com. Last year, the company started offering white ink printing on colored paper, opening up a whole new world of digital printing possibilities. Earlier this year, Smartpress.com acquired two HP 10000s that can print up to a 29-inch format at high speeds. More recently, Graphic Design Services were introduced for customers who don't have the time or software tools to create their own print designs. As the company grows into the future, it will continue to introduce distinctive and valuable print options, while offering world-class customer service and a 100% satisfaction guarantee.
See how traditional die cutting compares to laser cutting, a full list of products that can be die cut, and more at: http://smartpress.com/pages/digital-laser-cutting
About Smartpress.com
Smartpress.com is the fastest, easiest way to buy print online. The company prides itself on world-class customer service and attention to detail with 100% outcome satisfaction. The Smartpress.com advantage is providing a simple ordering process with fast turnaround at competitive prices. This 100% employee-owned company uses state-of-the-art digital presses with a wide selection of paper stocks, and has the ability to deliver top-quality results in quantities as small as a single piece. Smartpress.com provides sophisticated finishing options including a wide variety of print media, mounting substrates, laminates and digital die cutting. The company also has the capability to print photographic quality, large format prints; backlit graphics; magnets; and banners. In addition, they can execute full variable data and cross-media direct marketing campaigns. To see the wide variety of offerings and to learn more, please visit http://smartpress.com.