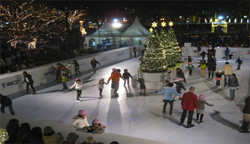 "We can do a full size rink with hockey lines and creases for a fraction of that price."
Verona, Pennsylvania (PRWEB) March 05, 2014
Future Skate, LLC Synthetic Ice Systems based in Verona Pennsylvania was looking to expand their business which is selling synthetic ice surfaces. Meanwhile, a Canadian company, SmartRink Inc., of Halifax, Nova Scotia was looking for partners to expand business south of the border. During a recent job bid the two companies decided that it would just make sense to work together.
Future Skate company President, Marty Coyne explains, "It just makes a lot of sense for the two companies to work together. SmartRink has some capabilities we just didn't have and this is a great way to introduce a proven product into our marketplace."
SmartRink company President adds, "The business arrangement allows for both companies to grow together instead of competing against each other. We have some unique products and now Future Skate has access to selling those products in their market. Ultimately the customer and the overall industry will benefit because Future Skate will introduce a product line with stronger, safer connection systems, while still offering a premium skating experience."
Synthetic ice is an engineered polyethylene material which get laid out like a floor. Sizes can vary but rinks can be built up to full size. Skaters are able to use conventional ice skates. Both companies claim that there are no limitations to skating on their synthetic material. "forwards, backwards, tight turns, pivots, stops, spins and even jumps," claims Mr. Coyne. "Anything you would do on real ice, you can do on this synthetic ice."
Synthetic ice is becoming a popular consideration for communities across North America as recreation projects are increasingly difficult to fund. A basic mechanically refrigerated ice rink can easily cost over $5 million dollars says Oldfield. "We can do a full size rink with hockey lines and creases for a fraction of that price," he adds.
In addition, synthetic ice can be installed outside and operated in any climate. But Oldfield cautions, "not all synthetic ice products are well suited to any climate. The SmartRink connection systems, however make it possible to install in both freezing and hot temperatures."
Synthetic ice is not a new idea. Products have been around for over 30 years. But according to Oldfield the products have improved. "There are various manufacturing methods and quality levels, so the products out there vary widely. It's important to understand what makes products different, it's important to know the right questions to ask a supplier so that realistic comparisons can be made."
Both Future Skate and SmartRink are excited about the possibilities in the Pennsylvania market and beyond. As a final thought Coyne adds, "It's a good day when you can grab your ice skates, anytime of year, and join your friends for a pick up game of hockey on your local community rink, winter or summer."