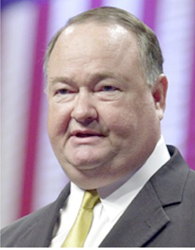 Coughlin's legendary accomplishments and his deep operational knowledge will be a tremendous asset.
SCOTTSDALE, Ariz. (PRWEB) September 28, 2015
SmartStore Business Intelligence Solutions, a leading provider of cloud-based predictive analytic solutions for retail and hospitality providers, has announced that former Wal Mart vice chairman and Sam's Club CEO Thomas Coughlin has assumed the role of SmartStore's executive advisor.
SmartStore President Ken Claflin says that Coughlin's remarkable career, his understanding of predictive software and multi-faceted background working with high volume stores will bring welcome insight to Smartstore's expanding service offerings.
"Coughlin's legendary accomplishments and his deep operational knowledge will be a tremendous asset to our ongoing product development efforts," Claflin says. "His expertise will help us drive best practices both internally and in the field, so our clients can gain even more from our solution."
Coughlin brings with him 40 years of experience in the retail industry, with expertise in loss prevention, predictive software and corporate personnel training.
Coughlin began his retail career with WalMart in 1978 in the company's security division and eventually became vice president of loss prevention. Coughlin later became Wal Mart's vice president of human resources, and from January 1998 to January 1999, he was executive vice president and CEO of the flagship Wal-Mart Stores division.
In August 2002, Coughlin was elected to the WalMart Board of Directors and named CEO for Sam's Club USA. In 2003, he was named executive vice president and vice chairman of Wal Mart Stores, Inc.
Coughlin's longtime retail business career earned him accolades for his ability to build strong relationships with WalMart associates in the field, as well as his knowledge of business operations, corporate personnel, training and loss prevention. His success building the Sam's Club division exceeded all expectations, and made him a WalMart legend.
"In just seven years, Sam's Club grew from only five clubs to more than 400, and from a couple hundred million to $18 billion in volume," Coughlin says.
From Sam's Club, Coughlin went on to run Wal Mart's Specialty Division, and after four years he became chief operating officer of Wal Mart. He retired in January, 2005 to a 2,000 acre Angus ranch in Centerton, Arkansas, just 10 miles west of Wal Mart's Bentonville headquarters.
The Cleveland, Ohio native graduated from California State University East Bay in Hayward, California, with a bachelor's degree in political science. Coughlin, a close friend of WalMart founder Sam Walton, built a 27-year career with the retail giant, achieving the position of second-highest-ranking executive in a company of more than a million employees.
For more information, visit the SmartStore website, email sales(at)smartstorebi(dot)com, or call 1-800-477-8729.
About SmartStore:
Founded in 1989, SmartStore Business Intelligence Solutions provides cloud-based POS analytics for more than 12,000 retail, restaurant and hospitality businesses worldwide.
Under the new direction of SmartStore president Ken Claflin, SmartStore has launched an ambitious rebranding program and major expansion of the company's powerful underlying platform to sharpen its ability to help businesses promote operational execution that includes enhancing its software and analytic solutions, designed to improve operational efficiencies, increase sales and boost employee productivity.
SmartStore's industry-leading business intelligence tools help owners and managers gain visibility into their operations and help improve employee behavior by and delivering recommendations to the field. Users improve their operations, reduce shrink and increase margins quickly and efficiently.