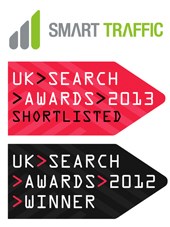 "We are immensely proud.. a huge achievement for the team," Smart Traffic CEO, Philip Cheek.
(PRWEB UK) 22 October 2013
Having won the 'Best Use of Search' category in 2012, The Bristol based SEO provider is again shortlisted in 2013, this time having had its Technical Department shortlisted for 'Best In House Team' award.
The announcement will see Smart Traffic compete with teams from O2, Aviva and RBS amongst others. If successful, the award would be the 5th time in two years that the company had been recognised for its services and contribution to the industry.
Philip Cheek, CEO at Smart Traffic, emphasised the importance of the shortlisting for the business in saying, "We are immensely proud to be shortlisted for the UK Search Awards for the second year in a row. We work very hard to ensure our products and services are amongst the best the UK has to offer, and our Technical Department is a key component in facilitating that; having them shortlisted for the 'Best In House Team' category at the SEO industry awards is a huge achievement for the team and a great way of measuring ourselves against our peers within the industry. We look forward to the awards night, where we can celebrate the Technical Team achievements with all the other shortlisted finalists!"
The awards ceremony will take place on the 14 November at the Emirates Stadium, London.