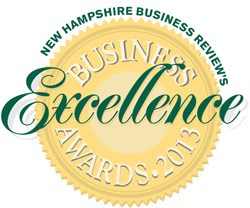 Center Harbor, NH (PRWEB) November 01, 2013
Smartware Group Inc, producer of Bigfoot Computerized Maintenance Management System (CMMS), has been selected for the 2013 New Hampshire Excellence Award among all its peers and competitors by the Small Business Institute for Excellence in Commerce.
Each year, a panel of industry executives and consultants oversees an annual survey commissioned by the SBIEC to identify companies that have achieved demonstrable success in their local business environment and industry category. These companies are recognized as having enhanced the commitment and contribution of small businesses through service to their customers and community. Small businesses of this caliber enhance the consumer driven stature that New Hampshire is renowned for.
Smartware Group has consistently demonstrated a high regard for upholding business ethics and company values. This recognition by SBIEC marks a significant achievement as an emerging leader among various competitors and is setting benchmarks that the industry should follow.
"Our values are simple, but they have guided our company since day one. Our goal is to provide an excellent customer experience," said Paul Lachance, president of Smartware Group. "The proof lies in our investment in development and customer support, even more so than sales and marketing. We believe our customers feel the difference, and it shows in their long-term loyalty. We are proud of this achievement and appreciate the recognition we've been given by the SBIEC."
As part of the industry research and business surveys, various sources of information were gathered and analyzed to choose the selected companies in each category. This research is part of an exhaustive process that encapsulates a year-long immersion in the business climate of New Hampshire.
About Smartware Group, Inc.
Smartware Group, Inc., headquartered in Center Harbor, N.H., produces Bigfoot CMMS for a variety of industries, from manufacturing to hospitality and tourism.
Since 2002, Bigfoot has helped more than 10,000 users worldwide improve facility and equipment maintenance operations with advanced capabilities that include PMs and predictive maintenance, work order scheduling, maintenance requests, asset life cycle management, parts replacement inventory, and built-in reporting. Bigfoot CMMS's native functionality paired with its intuitive design allows maintenance professionals to implement the solution and get results quickly, often in a matter of weeks.
Visit http://www.bigfootcmms.com for more information today.
About SBIEC
The SBIEC is a leading authority on researching, evaluating and recognizing companies across a wide spectrum of industries that meet its stringent standards of excellence. It has spearheaded the idea of independent enterprise and entrepreneurial growth allowing businesses of all sizes to be recognized locally and encouraged globally.
Particular emphasis is given to meeting and exceeding industry benchmarks for customer service, product quality and ethical practices. Industry leading standards and practices have been developed and implementation of the same has been pioneered by the dedicated efforts of the business community and commerce leadership. More information on SBIEC can be found at http://www.sbiec.org.