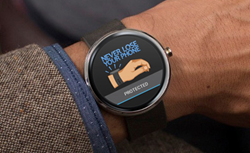 "Losing your Smartphone is a big headache you want to avoid. Having that peace of mind of not losing your phone makes for a more stress free day knowing your protected."
Toronto, Canada (PRWEB) January 15, 2015
As Smartphones become more personal each day, we rely on our smartphones more than ever. Given how much personal information they contain from photos, contacts, notes, social networks, shopping and banking apps, it is more important than ever to ensure smartphones are not lost. Thanks to a free, simple Wearable App called Never Lose Your Phone, it is now simple to prevent losing ones phone if you have an Android Smart Watch.
The Smart Watch App simply vibrates and notifies the user on their Smart Watch that they have left their Smartphone behind. The Never Lose Your Phone App acts as an invisible leash between the users Smartphone and their Smart Watch. If the Smart Watch and Smart Phone is approximately 10 metres or 32 feet away from each other, the Smart Watch will vibrate and notify the user not to forget their phone. Users can turn protection ON or OFF anytime as well from either device.
According to Consumer Report's annual State of the Net survey, 4.5 million phones were lost or stolen in 2013. Given how dependent we have become on our devices, being without a Smartphone is a helpless feeling, a feeling now called mobophobia.
Leaving ones smartphone behind in the morning or at the cinema, restaurant, or anywhere will be a thing of the past thanks to the Never Lose Your Phone App. The Smart Watch App released today on the Google PlayStore that offers smartphones free protection.
Founder Ahmer Beg said, "Losing your Smartphone is a big headache you want to avoid. Having that peace of mind of not losing your phone makes for a more stress free day knowing your protected." Alternatively, one can protect their Android tablet instead of their phone, as long as it is running a v4.4 or newer operating system.
The team will also be releasing this Wearable App for the Apple AppStore soon as the iWatch is released.