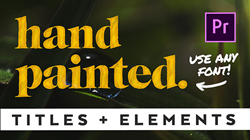 Smashworks designs and develops tools for content creators that minimize time spent working while also maximizing impact.
CARLSBAD, Calif. (PRWEB) April 15, 2019
Smashworks, a pioneering new product development company focused on the singular vision of designing video editing tools that work with Adobe Premiere Pro to make content more stimulating, interesting and engaging, today launches its inaugural product, HandPainted.
Smashworks designs and develops tools for content creators that minimize time spent working, while also maximizing impact. Smashworks products are designed to enhance video content including short and dynamic social media clips, personal and elaborate wedding videos and film projects, company presentations, as well as commercial work designed to make immediate impression on customers and clients.
Hand Painted, Smashworks' inaugural offering, is a new feature-rich, Adobe Premiere template that provides creators with a tool set that will automatically make any font look authentically hand painted, as well includes 50 hand painted customizable animation elements that add visual interest, taking any project to the next level.
Hand Painted seamlessly integrates text presets and motion packages right into Adobe Premiere, dramatically reducing the time spent switching between software, and increasing productivity. Any font can be incorporated into the product, meaning designers can create incredibly customized projects while saving time to maximize their budget. The Hand Painted element packs now also work with Final Cut Pro.
"Hand Painted is a product that was created by content creators for content creators," said Austin Faure, founder, Smashworks. "After spending hundreds of hours hand painting individual frames for a client project, we knew there was a need for a product that would give a hand-painted effect to titles that could integrate with Adobe Premiere to save time and money for our fellow creatives. We understand your time is valuable."
Hand Painted features include:

Easily drag & drop into Adobe Premiere
50 fully customizable hand painted elements
Fast preview feature for quick placement
3 painted varieties for Premiere Pro
Ability to use ANY font with Adobe CC 2019+
Supports any resolution up to 4K
Vertical video compatible
Line wiggle animation feature
Support for any color
Lightning fast rendering
No plugins required
Pricing and Availability
Hand Painted is available now for $34.95 directly from Smashworks.
Executive Team
Brad Schlachter, CEO of Smashworks stated, "I am very excited and inspired to help the amazing talent at Smashworks as they provide unique products for content creators. This entrepreneurial team brings together immense and interesting background that includes award-winning films, industry-leading viral sensations and graphics and marketing programs for notable brands such as Monster Energy and Hurley."
Prior to Smashworks, Schlachter was involved in the founding of several companies and served as board member and executive advisor for many other emerging growth ventures. Company founders include Austin Faure, who launched one of the world's earliest and largest viral sensations, 'Molly The Owl', a live online broadcast and documentary series that followed a family of wild barn owls; as well as filmmakers and content creators Noah Crider and Parker Schmidt.
About Smashworks:
Smashworks was founded by three industry creatives who saw an opportunity to provide seamless, easy-to-use products that enhance content creation for prosumers, enthusiasts and professionals alike. Smashworks' products minimize time spent on producing projects while ensuring that creatives will be able to expand their abilities and production value. To learn more, visit Smashworks' website smashworkshop.com, on Instagram .