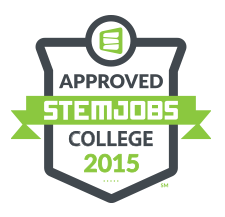 We're pleased to showcase schools like South Mountain Community College as a school leading the way in this area. --Daniel Nichols, STEM JobsSM President
Phoenix, AZ (PRWEB) December 13, 2014
South Mountain Community College announces that it has been designated a 2015 STEM JobsSM Approved College by Victory Media, the leader in successfully connecting individuals in transition with education and career opportunities, and creator of STEM JobsSM media, education and career resources for students interested in science, technology, engineering and math.
The 2015 STEM JobsSM Approved Colleges inaugural list is the first of its kind to rate universities, colleges, community colleges and trade schools on their responsiveness and relevance to high demand, high growth STEM occupations.
South Mountain Community College was among over 1,600 schools participating in the STEM JobsSM survey process. Schools submitting surveys were scored on publicly available data and responses to proprietary questions around three key indicators of success: STEM job alignment, STEM job placement, and diversity in a school's STEM programs. The assessment and rights to the STEM Jobs ApprovedSM Colleges designation were available to qualifying schools.
SMCC will be featured in the Winter 2015 issue of STEM JobsSM magazine, along with the entire 2015 list of STEM JobsSM Approved Colleges.
"With the list of STEM JobsSM Approved Colleges we're able to help parents, students and
guidance counselors evaluate how well education is translating into real-world jobs, and how responsive institutions are to meeting those demands," said Daniel Nichols, President of STEM JobsSM. "We're pleased to showcase schools like South Mountain Community College as a school leading the way in this area."
Learn more about STEM JobsSM ratings.
# # #
South Mountain Community College offers transfer-ready academic courses and job-specific occupational training. The main campus is located on Baseline Rd. and 24th St. in Phoenix. There are two satellite locations, SMCC's Guadalupe Center and SMCC's Laveen Center. South Mountain Community College is one of the 10 regionally accredited Maricopa Community Colleges, one of the largest community college districts in the nation.