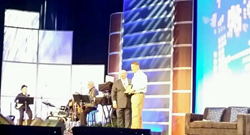 "We're thrilled to have won the customer excellence award from Motorola Solutions. This award is testament to our ability of developing deep rooted relationships with our customers and always putting their needs first." -Nancy Gorski, president, SMG3
Schaumburg, IL (PRWEB) May 13, 2014
Strategic Mobility Group (SMG3), a leading enterprise mobility integrator located in the greater Chicago area, is pleased to announce that it has received Motorola's prestigious Customer Excellence Award. Strategic Mobility was chosen from thousands of Motorola Solutions Value Added Resellers nationally for their ability to provide outstanding customer experiences. This is the third award SMG3 has received from Motorola Solutions in the last year.
Some of the specific areas that Motorola analyzed during the selection process for the Customer Excellence Award included: customer care and loyalty, customer retention strategies, formalized customer procedures/practices/warrantees, dedicated communications conduits to and from customers, regular surveys and customer perception captures, and formal customer referral programs.
"We're thrilled to have won the customer excellence award from Motorola Solutions," said Nancy Gorski, president, Strategic Mobility Group. "We recently celebrated our third anniversary as a company. In that time we have almost tripled our business, number of employees and even our office space. Through it all, our employees have never lost sight of our customers and I cannot thank them enough for that. This award is testament to our ability of developing deep rooted relationships with our customers and always putting their needs first."
The finalists were reviewed by a team of independent consultants before the winner was selected. The award was presented to Strategic Mobility Group in late March at Motorola's Channel Partner & Sales event in Las Vegas, Nevada.
About Strategic Mobility Group
Strategic Mobility Group (SMG3) is an innovative technology provider that designs and integrates mobile solutions for enterprises. We consult companies on how to operate more efficiently through the use of mobile hardware, software, professional services and support. It's our job to keep businesses up-to-date on the latest technology and provide them with innovative solutions that will maximize efficiency both inside the four walls and out. What's best is unlike other mobile technology providers, we support our customers with a suite of services: site surveys and evaluations, custom device configurations, staging/kitting, training, technical support and more. Helping businesses improve operational efficiencies and ROI is why many of the Fortune 500 companies choose SMG3 to manage their enterprise mobility needs. Learn more about us at: http://www.strategicmobility.com.
SUPPORTING RESOURCES
Website: Motorola Solutions' PartnerEmpower Program
To follow us on Facebook: https://www.facebook.com/StrategicMobilityGroup
To follow us on Twitter: https://twitter.com/SMobility3
To follow us on LinkedIn: http://www.linkedin.com/company/strategic-mobility-group
Media Contact:
Karen Fleming
Strategic Mobility Group
847 995 1010 x118
kfleming(at)smg3(dot)com