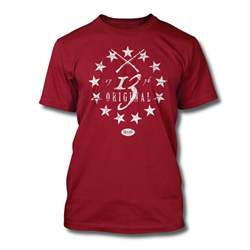 Menifee, California (PRWEB) February 25, 2014
The new Smith Arms website recently launched at SmithArms.com has all new products and a full feature web store.
A boutique outfitter of second amendment t-shirts and American themed apparel and accessories, Smith Arms currently offers branded t-shirts and vinyl stickers.
"On January 1st we began plans to launch a new line of t-shirts and stickers that are pro America, pro gun and pro second amendment," said Matt Smith, creator of Smith Arms. "Today we're excited to announce the launch of our web store with the first seven products. Each of our products is based on an original design that you won't find anywhere else. We've crafted each design to authentically capture the intended story. For example, our "Original 13" shirt pays homage to the American Revolution and the first 13 colonies that fought for independence. The design includes elements of the Betsy Ross flag and crossed muskets to remind us that it took years of fighting to win sovereign independence. And we released the first edition of this shirt in cardinal red to symbolize that bloodshed."
"Our goal is to become an accepted brand in the gun community as we work to support the American heritage of hunting and the shooting sports as well as our second amendment rights that are constantly being minimized by law makers."
About Smith Arms
The broader goals of Smith Arms are to promote the American ideals of freedom, liberty, personal responsibility, and self reliance. To raise awareness and demand respect for the constitution, restore the right to bear arms and push for a limited government. And to celebrate the accomplishments of those who have fought and died to afford us those freedoms. Learn more about Smith Arms at http://www.smitharms.com/.