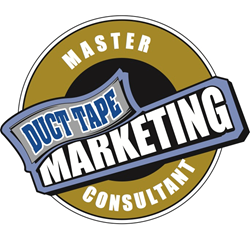 A Certified Master Duct Tape Marketing Consultant is well versed in implementing the proven Duct Tape Marketing system
Anniston, AL (PRWEB) October 15, 2015
For the past year, David C. Smith, Managing Partner at Valens Point, has undergone an extensive professional development program administered by the Duct Tape Marketing Consultant Network. This month at the Duct Tape Marketing Consultant Network's Annual Summit, seven Duct Tape Marketing Consultants presented their accomplishments in the program and were awarded Master Consultant status.
Duct Tape Marketing was developed over 20 years ago as a way to install a turnkey marketing system into small to mid-size businesses. David C. Smith has been a member of the Duct Tape Marketing Consultant Network for over five years. To become a member of the Network, marketing consultants must undergo extensive training. They have proven their knowledge in marketing strategy, SEO, social media, consulting, coaching and garnering lead generation for their ideal clients. They have shown excellence in their marketing field.
The Master Consultant certificate is earned by making commitments to the Network in areas such as recruiting, mentoring, onboarding, training, content, and the perks and partners program. David C. Smith contributed to the Network by leading internal success groups, managing collaborative content development efforts, and participating in Network recruitment efforts.
As a Certified Master Duct Tape Marketing Consultant, David C. Smith is well versed in implementing the Duct Tape Marketing proven marketing system after training that includes attending webinars, applying these processes to real-life scenarios and doing the research needed to learn and grow in both strategy and implementation. David C. Smith is trained in determining your ideal customer, learning how to develop and utilize effective content, nailing down a process for tracking results, finding a key competitive advantage for your company, and installing a marketing system that will improve the results of your marketing efforts.
The Duct Tape Marketing Consultant Network currently has certified consultants around the globe in 14 different countries including the U.K., Australia, Bahrain, New Zealand, Vietnam, Singapore, Switzerland, Argentina, Costa Rica, Mexico, Guatemala, South Africa, Canada and the U.S, and is always expanding. The Network offers discounts on marketing tools, access to a hundred talented marketers and continual training, such as the Masters program, to all of its members.
About Duct Tape Marketing: Duct Tape Marketing was developed over 20 years ago as a way to install a turnkey marketing system into small to mid-size businesses. John Jantsch, its founder, has written several books and earned accolades from Forbes, CNBC, the New York Enterprise Report and even reached the Wall Street Journal bestseller list. Because of Duct Tape Marketing's success, approximately 100 consultants around the world have opted to use this system as THE way to implement marketing for their clients. When this plan in implemented, marketing becomes easy and delivers predictable results.
About Valens Point: Valens Point helps small technology and technology services businesses get more customers, grow revenue, and build a profitable business. We do this by developing a marketing strategy and implementing a marketing system based on the proven methods of Duct Tape Marketing. We are in it with you to achieve your business goals by focusing on results with our Pay For Results Marketing approach.