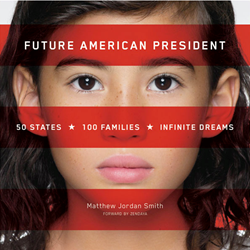 "Tell the truth. Keep the peace. Accommodate changing times but cling to unchanging principles." Jimmy Carter
Los Angeles, CA (PRWEB) January 14, 2015
Pick up any fashion and beauty publication and somewhere in the magazine you're likely to see work by photographer, Matthew Jordan Smith. He's photographed some of the most famous celebrities in the world, including Aretha Franklin, Vanessa Williams, Mandy Moore, Disney's Zendaya, Queen Latifah, Oprah, Tyra Banks, Britney Spears and Angela Bassett, just to name a few. His client base is just as impressive, having worked for the who's who in the cosmetic and entertainment industries.
Within the photographic industry, often referred to as one its most passionate artists, Smith is now working to expand and bring the beauty of his commercial work to family and business portraiture.
"Over the last year or two I've been asked several times to add non-commercial portraiture to my repertoire. In photographing 100 families for my new book, "Future American President", I spent over a year visiting all fifty states and cherished every photographic moment," commented Smith. "Well, I had such a great time shooting outside my normal core business, I want to expand into the less structured non-commercial world and create stunning family and business portraits."
Smith's new book, "Future American President" is scheduled to be released in February and includes portraits of kids, all aspiring to some day be President. It includes a comment from President Jimmy Carter and a foreword by Disney star, Zendaya. It's been an inspirational journey, resulting in an expansion of excellence into fine art portraiture with a commercial flair.
This new direction for Smith, creates opportunities for new clients interested in a different look and feel for their family portraits, as well as raising the bar on the quality of the typical business head shot. This isn't about photography, but art in the quality and presentation of each image.
Family portraiture has been part of Matthew's journey for many years, but done on request only and typically exclusively with past clients. Appointments will be on a very limited basis, so as to not interfere with other projects, speaking engagements and teaching assignments.
"Working with Matthew isn't just about great images, it's about a fun relationship. I've worked with hundreds of photographers in my career and don't remember most of the sessions, but each one with Matthew has left me smiling. Several times over the years they resulted in our own family portraiture captured as only Matthew Jordan Smith can do!" said Angela Bassett.
About Matthew Jordan Smith
Matthew Jordan Smith is an American photographer based in Los Angeles. He has photographed some of the most famous people in the world. Matthew has received numerous awards and honors throughout his photographic career. In March of 2014 he received the Vision Award for his upcoming book, Future American President. In April of 2014, he received the Power of Image award in Beijing, China and his work is currently on tour throughout Asia.
For more information on Matthew Jordan Smith's work, his new book, Future American President or an appointment for family or business portraiture, contact Matthew directly through his email at MJS@matthewjordansmith.com.