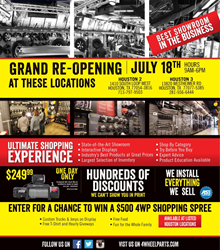 We're having hourly giveaways throughout the day and a $500 gift certificate giveaway at 4 p.m.
Compton, California (PRWEB) July 16, 2015
4 Wheel Parts, the global leader in off-road performance product sales and installation, will hold two Grand Reopening events this Saturday, July 18 in Houston, Texas. The celebrations at the Houston locations will feature premium aftermarket products on display, exclusive discounts, hourly giveaways and a chance to win a $500 shopping spree. Both Houston retail stores have undergone major renovations and are ready to re-join the ever-growing lineup of 70 4 Wheel Parts stores throughout North America.
"There will be a live radio broadcast from 10 a.m. to noon and then at noon we'll have a live band, bikini carwash and free James Coney Island food," says Houston Store Manager, Jeff Fussell. Family-friendly kids activities at the store include a bouncy house and sno-cone machine. "We're having hourly giveaways throughout the day and a $500 gift certificate giveaway at 4 p.m." adds Fussell.
Admission to both celebrations is free and attendees will be treated to up close looks at new truck, Jeep and SUV products from top manufacturers including Dick Cepek tires, Skyjacker suspensions, and Mickey Thompson wheels. ASE-certified technicians will be onsite performing installations with exclusive pricing on select parts purchased at the Grand Reopening.
"Multiple vendors are coming out including local vendors MHT Wheels, Wheel Pros and Bob Cook Sales, as well as Fab Fours and N-FAB," says Ricky Rodriguez Houston Store Manager. "We'll have a Traxxas RC car giveaway and we're running a winch special on the Smittybilt XRC."
Having recently doubled the size and capacity of its distribution center in Coppell, Texas, 4 Wheel Parts' parent company Transamerican Auto Parts (TAP), has also recently unveiled plans to open a new warehouse distribution center in the Pacific Northwest as part of its expansion initiative. The 75,000 sq. ft. Post Falls, Idaho location will increase supply and inventory levels at retail stores in western Canada and the Pacific Northwest. The two Texas locations reopening in Houston will continue to be served by TAP's Coppell distribution center.
What: 4 Wheel Parts Houston Grand Reopening Celebrations
When: Saturday, July 18 from 9 a.m. – 5 p.m
.
Locations:
13820 Westheimer Rd.
Houston, TX 77077
281-556-6444
1410 S. Loop West
Houston, TX 77054
713-797-9503
About 4 Wheel Parts 4 Wheel Parts is the global leader in off-road truck, Jeep and aftermarket performance products. With 70 locations across the U.S. and Canada and growing, 4 Wheel Parts Service Centers install all the products they sell. Maintaining the nation's largest inventory of off-road parts like tires, wheels, Pro Comp shocks and accessories, 4 Wheel Parts serves customers across the country and around the globe. Life is Better Off-Road™. Visit them at 4wheelparts.com or call toll-free 877-474-4821.