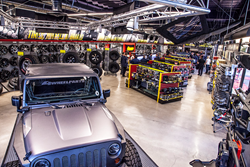 These stores represent the next level of retailing for the off-road industry.
Compton, California (PRWEB) September 26, 2014
Prominent distributor and retailer of aftermarket parts for off-roaders, 4 Wheel Parts, is opening new stores in Edmonton, Alberta Canada and Bossier City, Louisiana this Saturday September 27. To celebrate, both locations will hold festivities featuring off-road vehicles, $1,000 shopping sprees and hourly prize drawings. Both stores will stage ribbon-cutting ceremonies to showcase their new facilities with state-of-the-art showroom layouts.
Transamerican Auto Parts president and CEO Greg Adler describes the new locations as more than your average retail shopping experience. "These stores represent the next level of retailing for the off-road industry," he says. The locations have more interactive in-store displays and online Google virtual tours of showrooms allow users to remotely navigate the entire premises.
The first 100 people into the Edmonton store on Saturday get a free t-shirt and there will be free food, bouncy castles for the kids and savings on Transamerican Manufacturing Group products. "We officially opened on Friday, September 17 and so far we've had an outstanding response," says Karl Klein, Edmonton, Alberta assistant store manager. "We had people walking in the door when we were doing setup and there has been a lot of chatter about our grand opening on Jeep forums."
Like the Edmonton store, the Bossier City grand opening will offer 50% off onsite installation for any one item and select Smittybilt winches on sale. "We've got a car crush and a 20-foot-tall monster truck bounce house and slide for the kids, two Jeep clubs coming out and displaying and we're working to get some side by sides and quads here," says Terry Baker, Bossier City store manager.
Events at both stores kick off this Saturday at 9 a.m. and go until 5 p.m. The Edmonton, Alberta location is the sixth 4 Wheel Parts opened in Canada and joins stores in Burlington, Montreal, Calgary, Fredericton and Red Deer. It's located at 4220 99 St NW Edmonton, Alberta T6E 5B3 Canada. The Bossier City store across the river from Shreveport is at 2001 Airline Drive, Bossier City, LA 71111.
About 4 Wheel Parts: 4 Wheel Parts is a retailer and service provider specializing in aftermarket parts for 4x4 enthusiasts and off-roaders. With over 70 locations throughout North America, 4 Wheel Parts supplements its retail centers with a robust mail-order and e-commerce distribution network for customers around the country and worldwide. 4 Wheel Parts carries a large inventory of Jeep and truck parts, including running boards, tonneau covers, and exterior accessories. Their toll-free order number is 877-474-4821.