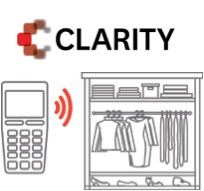 I am thrilled to see how our customers are using Clarity™ to reduce the complexity and risk of deploying RFID in retail for faster and proven ROIs
Dallas, TX (PRWEB) November 10, 2015
Today, SML Intelligent Inventory Solutions (SML IIS) announced the release of Clarity™ 3.X software, the latest version of their comprehensive cloud-based software suite that simplifies retail RFID deployment to enable real-time apparel inventory management across the global retail channel.
The easy-to-use, cloud-based software suite provides best-in-class stock availability reducing out of stocks, delivery shipment auditing and stock counting variance reporting, as well as improving omnichannel execution at each store. Clarity™ has been referred to by numerous RFID experts and customers as the "most comprehensive suite of functional, flexible and scalable software solutions for retail we've seen for inventory management and omnichannel ".
Clarity™ delivers on the promise of 'beyond visibility' and helps manage every item of every store across any size retail chain. The event driven architecture is being discovered as the best and most cost-effective solution in the market for vertically oriented retailers, brand owners with stores and large department stores.
"Clarity™ 3.X is state-of-the-art in both architecture and functionality to handle entire store operations, putting an enormous amount of capability into the hands of store associates to deliver a new level of customer service," said Dean Frew, president and founder, SML IIS. "We set out to challenge ourselves and create a step-function change in functionality and scalability for retail RFID solutions. I am thrilled to see how our customers are using Clarity™ to reduce the complexity and risk of deploying RFID in retail for faster and proven ROIs."
Clarity™ 3.X is currently deployed in several retailer pilot deployments, as well as in Tesco's F&F retail apparel stores. Clarity™ is a foundational element of a new era of RFID systems being deployed to assist merchandizing and store operations to improve customer service. SML IIS achieved a significant scalability milestone with more than 3 billion RFID transactions successfully running on Clarity™ solutions across 20 countries during the first three quarters of 2015.
Case studies demonstrate that the Clarity™ solutions greatly improve inventory accuracy, with retailers experiencing greater than 98 percent accuracy. This not only allows retailers to improve product on-shelf availability, increasing sales and greatly reducing inventory into the chain, it also eliminates the need for third-party audits.
RFID investments are not being leveraged effectively if they are only using simple stock counting not integrated with store systems. Clarity™ 3.X has been designed to enable full operational control and new inventory management processes based on years of in-store experience:

Stock Count w/ Variance Analysis
Stock Enquiry At Nearby Stores
"Intelligent" Replenishment
Delivery Validation And Moves
RFID enabled POS and EAS
Tag Encoding
Omnichannel & Markdowns
Web Management dashboard
As new innovative RFID hardware technology is introduced into the market, SML IIS actively tests and enhances their software solutions by including handhelds, fixed readers, POS readers and RFID robots to deliver the best possible performance while optimizing processes and return on investment (ROI) for customers. Currently Clarity™ is deployed on NordicID, TSL and Zebra RFID handhelds using Windows and iOS operating systems as well as Alien, Impinj, NordicID and Zebra fixed RFID readers and versions for iOS and Android are coming soon.
The complete Clarity™ 3.X suite contains all the functionality needed to improve supply chain and inventory management from the factory to the store, as well as increase omnichannel efficiency and reliability.