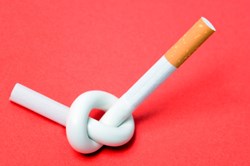 Cancer is bad enough but gum disease can also bring with it a number of other very serious medical conditions.
Bournemouth, Dorset (PRWEB) September 30, 2013
Oral health experts from Eludril and Elgydium are urging young smokers to quit after latest research revealed "soaring" mouth cancer rates.
Mouth cancer is not the only threat. Smoking can lead to a wide range of oral health problems such as tooth loss, gum disease, tooth staining, plaque and bad breath.
"Cancer is bad enough but gum disease can also bring with it a number of other very serious medical conditions," said a spokesperson for Eludril and Elgydium.
They include heart disease, diabetes, respiratory problems and osteoporosis. Gum disease in mothers-to-be can result in premature birth.
But it is mouth cancer that is capturing the headlines following the new research (*) by the Health & Social Care Information Centre (HSCIC).
Mouth cancer rates have risen by almost 50 per cent in England over the last 10 years, according to the HSCIC data.
More than 1.6 million people needed hospital treatment in 2011/12 as a result of medical conditions brought on by smoking. Of these, cancer accounted for 11 per cent of cases.
Last year nearly a quarter (23 per cent) of 11-15-year-olds tried smoking more than once with four per cent smoking at least once per week.
The 23 per cent figure for young smokers is down slightly compared with 2011's total (25 per cent) but still of significant concern to health officials.
Smoking is a key risk factor in gum disease (gingivitis). It can also reduce the chances of treating the problem effectively.
Gum disease can be identified easily. Early symptoms include painful swelling of the gums, especially in the areas between the teeth.
But it is possible to have gingivitis for some time without first having any pain. Sufferers can experience blood in the mouth, especially when brushing, without the usual soreness.
Long term gingivitis can be serious because it is better to treat the condition early, before it leads to gum recession and tooth loss.
Regular dental check-ups are important. Dentists and hygienists can easily remove the plaque and bacteria that cause gingivitis.
Chlorhexidine is the leading treatment for gum disease. It has been recommended for decades by oral health professionals from all over the world.
Chlorhexidine is a key active ingredient in both Eludril mouthwash and Elgydium toothpaste.
Eludril antibacterial mouthwash is recommended as a short term treatment when gum disease is diagnosed.
Elgydium toothpaste can be used daily to help prevent gum disease. Choose from Anti Plaque, Decay or Whitening.
For further details about Eludril and Elgydium, contact Lindsay Revill at Ceuta Healthcare on +44 (0)844 243 6661.
(*) British Dental Health Foundation: "Health Continues To Go Up In Smoke", August 20 2013
-Ends-
Notes For Editors
Eludril and Elgydium are represented in the UK by:
Ceuta Healthcare Ltd
Hill House
41 Richmond Hill
Bournemouth
Dorset
BH2 6HS
Tel: +44 (0)844 243 6661
Eludril Mouthwash is an antibacterial and analgesic solution which can be used to manage a number of oral health problems.
Its main use is to treat and prevent dental plaque formation and gum disease (gingivitis, also known as periodontitis) by preventing the build-up of bacteria.
Eludril Mouthwash can also be used to maintain oral hygiene in situations where tooth brushing is difficult, for instance, following oral surgery or in physically or mentally handicapped patients.
Eludril can also be used as a disinfectant for the cleansing of removable dentures and in the management of common mouth ulcers and oral candidiasis infections (fungus infections).
Elgydium Anti-Plaque toothpaste is specially formulated for sensitive gums and helps to prevent dental plaque and tartar build-up, the major causes of tooth decay and gum disease.
Elgydium Whitening and Decay Protection are also available as part of the Elgydium range of toothpastes.