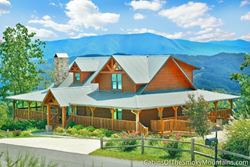 Gatlinburg, TN (PRWEB) May 18, 2015
Vacation rental company Venture Resorts Inc. (http://www.VentureResorts.com), today announced the addition of its 500th rental cabin. The milestone makes VRI easily the largest cabin rental agency in the Smoky Mountains.
"This is a huge event for us," says Mitch Thompson, Director of Owner Relations for Venture Resorts. "It's another sign that both vacation-goers and cabin owners like how we run our business."
Named "The Deckhouse," the 500th cabin is a luxurious 4-bedroom cabin featuring panoramic views of the Smoky Mountains. Located 10 minutes from Pigeon Forge, TN, The Deckhouse features a game room with wet bar, a theater room with HDTV and surround sound, plus many other extras.
With the addition of The Deckhouse, Venture Resorts now operates over 200 more cabins than its nearest competitor.
For vacationers, the company's large inventory of cabins means they have they a greater selection of professionally managed cabins to chose from. Thompson says that his company is highly regarded for its customer service and for the quality and cleanliness of its cabins.
"When most people book a cabin, they just choose one with pretty pictures," Thompson says. "But you've got to consider the level of service you'll get with your stay."
Venture Resorts has a 4-star rating on TripAdvisor, and was named the "Best Family Resort in the Smokies" by Southern Living Magazine.
Vacationers can book a cabin through one of two websites operated by Venture Resorts: http://www.cabinsofthesmokymountains.com and http://www.cabinsofpigeonforge.com.
Venture Resorts manages vacation cabins on behalf of the cabins' owners. According to Thompson, his company is known for producing the highest gross rents in the area, meaning that cabin owners can see more rental income from their rental cabin.
Thompson says he sees no let-up in his company's growth.
"As cabin owners see what we can do for their property, we expect more of them to switch," he says.
For information about the company's property management services, visit http://www.cabinsofthesmokymountains.com/switch/.
About Venture Resorts
Venture Resorts is the largest luxury cabin rental agency in the Smoky Mountains, managing 500 cabins within minutes of Great Smoky Mountain National Park and family-friendly attractions in Gatlinburg and Pigeon Forge, Tennessee. The company started life in 2003 as Gatlinburg Falls Resort, but now rents cabins throughout the area.
For more information, call (866) 347-6659.