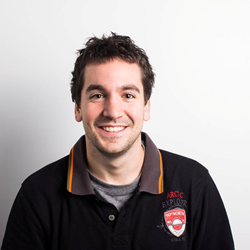 Teamable has the product, the timing and team to change the recruitment market."
SAN FRANCISCO, CA (PRWEB) March 24, 2015
Teamable, the enterprise employee referral engine, announced the hiring of David Smooke as the Head of Marketing. He will lead the company's marketing messaging, content production, content distribution, and social media strategy.
"We're thrilled to have David on the Teamable team," said Laura Bilazarian, Teamable CEO & Chief People Officer. "He has been on the forefront of the transformations in the way companies hire over the last four years, and he is one of the most insightful and creative thinkers in hiring."
David Smooke was Marketing Director at SmartRecruiters, where he led content marketing and social media marketing for 4 years, turning the SmartRecruiters Blog into an Award Winning Destination for recruitment content. He also is partner in the marketing firm, ArtMap Inc., provider of inbound marketing on demand.
"Employee referrals are the best, fastest and most productive hires, yet a winning technology solution for automating and increasing employee referrals has yet to emerge," said Recruitment Futurist and Hiring Consultant Matt Alder.
Teamable's employee referral intelligence leverages social network activity to create data informed hiring decisions. The current technology offerings are not facilitating the employer's high demand for quantity and quality of employee referrals. Highlights from the full text of "The 8 Most Important Studies on Employee Referrals":

Employee referrals are the number one source of hire by volume (CareerXroads)
Employee referrals "provide a steady stream of high caliber candidates who are often those hard to find, 'passive' job seekers" (SHRM)
"Referred workers are substantially less likely to quit" (HaaS Berkeley)
"Employees hired through personal referrals have higher productivity, lower turnover, and lower screening costs" (Stanford)
88% of employers say employee referrals are the #1 source of 'above average candidates' (Dr. John Sullivan)
Referred candidates are 40% more likely to be hired (The Federal Reserve)
On average, it takes just 10.4 referrals to lead to a hire (Oracle)
Referrals lower monitoring costs because high-effort referees can exert peer pressure on co-workers, allowing firms to pay lower efficiency wages (Universitat Pompeu Fabra)
"Teamable was the best software for leveraging our employees' social networks to get more referrals," said early adopter Hector Selberis, who ran talent acquisition for Ripple Labs. "Within the first few months of using it, we were able to make referral hires and get a ton of onsites set up, mostly hard to fill engineering positions."
You can now request a demo of the Teamable referral engine.
"Every interviewer would prefer to interview someone who is referred," said David Smooke. "I'm very excited to market the best performing source of hire, employee referrals. Teamable has the product, the timing and team to change the recruitment market."
About Teamable.me
Teamable is the enterprise employee referral engine, transforming the employee network into the company's high performance talent pool. Founded in December 2013, Teamable has offices in Redwood City, California and Yerevan, Armenia. Teamable uses the collective wisdom of a company's entire social graph to turbo charge enterprise recruitment. Learn more about the future of employee referrals: http://teamable.me/