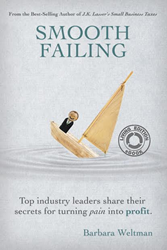 Pensacola, FL (PRWEB) March 04, 2014
Have you ever finished a book and wished there were more to read? Ever wonder if the author knew your situation if they would write about it? Best-selling author Barbara Weltman addresses those issues with her new living edition ebook called Smooth Failing - Top Industry Leaders Share Their Secrets for Turning Pain into Profits from Indigo River Publishing and available on Amazon.com. Smooth Failing is a book that shares the business failings of now successful entrepreneurs. New stories from business leaders on their business failures and the lessons they learned will be added regularly at no additional cost to readers. Alerts will be sent out automatically to Smooth Failing owners when each new version is available. Specific requests and challenges can be submitted by the reader for future consideration. These requests will dictate how often and how many additional stories will be made available.
Weltman has made an advantageous leap into the future of e-books by making hers a living edition. She could set a trend in the self-help genre by accepting requests for future chapters. Not only will Barbara Weltman use real life problems of entrepreneurs and business owners, but Ms. Weltman will also give her opinion on the why the business is failing, and advice on how to make the business successful.
A tax and business attorney since 1977, Barbara has the knowledge entrepreneurs need to get ahead and stay ahead. Since the publication of her J.K. Lasser's Tax Deductions for Small Business in 1995, Barbara Weltman has built a reputation as an experienced and helpful source for small business advice. Her passion is beyond helping personal business clients one-on-one as an attorney. She wanted to serve as a true small business expert, teaching people how to start a business and expand their current enterprises. She wanted to reveal her business ideas and hands-on knowledge to others who share her entrepreneurial spirit.
Weltman is one of the many new and interesting writers available from Indigo River Publishing. For more information, call (850) 912-6642, or visit http://www.IndigoRiverPublishing.com; or see Weltman's website at http://www.barbaraweltman.com.