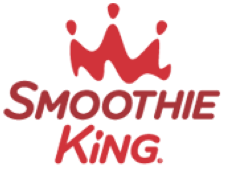 NEW ORLEANS (PRWEB) April 22, 2016
Smoothie King, the New Orleans based originator and innovator of the smoothie segment, is proud to announce the hiring of Chris Miller as Vice President of Marketing and Brian Judge as Chief Financial officer, as well as the promotion of Betsy Riggs from Director of Business Systems to Vice President of Business Integration and Technology. Riggs was promoted in April 2016; Miller and Judge started in November 2015. The new appointments cap a strong growth year for the brand, ending 2015 with 78 signed agreements to develop 152 new units, and additional plans for expansion in 2016.
Miller brings multi-unit franchise experience gained from YUM Brands, where he rose to Vice President of Brand Marketing for Taco Bell. He subsequently served as Chief Marketing Officer for Raising Cane's Chicken Fingers, a high growth fast casual chicken chain. His new role at Smoothie King is centered on increasing the brand's industry-leading same store sales growth with innovative and franchisee-friendly marketing programs and developing new store opening marketing plans in both current and new markets.
Riggs has been with Smoothie King since October 2013, previously serving as the Director of Business Systems. She brings over 15 years of restaurant experience from Ruby Tuesday and T.G.I. Friday's. Her new role, Vice President of Business Integration and Technology, will allow her to utilize her experience in restaurant development, finance and IT to facilitate cross-functional process improvement, provide a frictionless order and pay process for Smoothie King guests and provide new tools to help franchisees maximize unit profitability.
Judge has worked with a number of retail companies in his career, including leadership roles with Buddy's Home Furnishings and Ruth's Hospitality Group. In his role as CFO at Smoothie King, he will be responsible for overseeing the finance, accounting, procurement, human resources and risk management functions for the company. Judge is committed to the Smoothie King system in increasing return on investment for both franchise support infrastructure and new store development.
"We bring leaders to the team that embrace our mission of inspiring Guests to live a healthy and active lifestyle," said Wan Kim, CEO of Smoothie King. "Chris, Betsy and Brian bring multi-unit franchise system skills that will blend well with the rest of the team as we work to expand the Smoothie King brand and improve store level profitability for our franchise partners."
About Smoothie King
Smoothie King Franchises, Inc. is a privately held, New Orleans-area-based franchise company with more than 750 units worldwide. By creating each smoothie with a purpose, Smoothie King makes it simple and pleasurable for guests to achieve their individual health goals. The franchise also offers a number of healthy retail products, including sports beverages, energy bars, vitamin supplements and more.
Smoothie King was founded in 1973 by Steve Kuhnau, whose mission was to help others achieve better health in a tasty way. In 1989, Smoothie King became the first franchised smoothie bar/health food store in the U.S. and currently operates in 33 states, the Caymans, the Republic of Korea, and the Middle East. In 2015, Smoothie King was ranked No. 1 by Entrepreneur magazine in the juice bar category for the 23nd year and No. 92 overall on the 2015 Franchise 500 list. In 2014, Smoothie King partnered with the New Orleans Pelicans to launch the Smoothie King Center, a multi-purpose indoor arena in New Orleans, Louisiana. Visit http://www.smoothieking.com or http://www.smoothiekingfranchise.com; engage on Facebook http://www.facebook.com/SmoothieKing; follow on Twitter at http://twitter.com/smoothieking