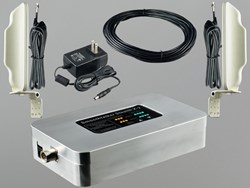 Kevin Carter, Director of Business Development at SmoothTalker states, "We are pleased to bring to market the most advanced FCC and ICAN approved cellular signal boosters available."
Aurora, Ontario (PRWEB) December 27, 2013
SmoothTalker is proud to announce they will be launching NEW consumer and commercial cellular signal booster kits at CES 2014 from January 7-10, 2014.
SmoothTalker is the North American market leader in designing and manufacturing advanced cellular signal boosters for mobile, home, and building. For M2M cellular modem applications, SmoothTalker boosters get cellular modems connected and can increase data transfer rates by up to 50%.
Kevin Carter, Director of Business Development at SmoothTalker states, , "We are pleased to bring to market the most advanced FCC and ICAN approved cellular signal boosters available.
They protect the networks and always deliver the best cellular call experience to the consumer. The incredible growth for cellular signal boosters for consumers, B2B and in the M2M segment shows the growing need for humans and machines to be connected at all times."
SmoothTalker proprietary and innovative "STEALTH TECH" ® technology eliminates cellular network interference and delivers the best signal to the consumer. This industry leading technology is incorporated in all the new upcoming SmoothTalker boosters which meet the new FCC mandated "Network Protection Standard" and provide an easy to set-up user experience
SmoothTalker manufactured the first FCC and ICAN approved cellular mobile digital signal booster in North American 13 years ago. Their cellular signal boosters are the most powerful and get you connected where competing cellular boosters fail. Their "STEALTH TECH" ® technology will not interfere with the cellular networks (carrier friendly) and always deliver the best signal to the consumer.
The cell phone signal amplification market is on a huge upswing with a market that is increasingly reliant and tied to cellular connections for voice, data and entertainment. Users are moving away from home cable based phone & internet lines.
SmoothTalker cellular signal boosters & amplifiers cover mobile, home, building, marine and M2M applications. They offer various dB gain and power models for small, medium and large areas. With over a decade experience and hundreds of thousands of installations worldwide SmoothTalker products are tried, tested and built to last. No signal, is not an option when it comes to today's consumer, B2B and M2M wireless applications.
About SmoothTalker
SmoothTalker designs and engineers leading edge products that enhance the total cellular phone experience. SmoothTalker produces the absolute best performing signal boosters available, the largest selection of in-vehicle custom charging cradles in North America and professional grade fixed-in-vehicle hands-free kits.
The company first began developing SmoothTalker cellular products in 1995 and by December 2001 SmoothTalker received the first FCC and ICAN approval for its GSM/TDMA Digital Mobile Booster followed by the first CDMA Digital Mobile Booster. The ongoing commitment in meeting the needs of the user and the network resulted in the most advanced wireless amplifier technology on the market today "STEALTH TECH" ®. This latest technology demonstrates its tradition in industry leadership and innovation during the current changing regulatory environment.
SmoothTalker was first to bring boosters for digital cellular to market and will continue the evolution of digital signal booster technology. It will keep raising the bar ever higher to meet the complicated and constantly evolving demands of present and future wireless networks and market needs.
About Cellular Boosters
Cell phone boosters are radio frequency amplifiers that increase incoming (receive) signal and outgoing (transmit) cell and mobile phone signal to provide a clear reliable voice connection, reduced dropped calls and increased data speeds. They are also known as cellular phone amps, amplifiers and repeaters. Cellular Signal Boosters are used to increase the range of a cell phone, smartphone, datacard, aircard and other Cellular and PCS frequency band M2M devices such as a remote alarm, vehicle tracking device and video device.
For more information:
Contact: Kevin Carter, Director of Business Development, SmoothTalker
Phone: 1-877-726-3444
Email: Kevin.c(at)smoothtalker(dot)com