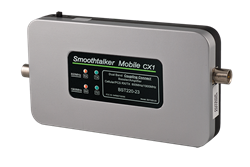 Tom Vagenas, SmoothTalker CEO states, 'We are pleased with our recent certifications and have many other mobile, fixed and M2M cellular boosting solutions pending. We will be launching these new solutions at IWCE in Las Vegas March 26-27.'
Aurora, Ontario (PRWEB) March 24, 2014
SmoothTalker, http://www.smoothtalker.com pioneers in manufacturing the best performing cellular signal boosters announced today their STEALTH TECH® cellular signal boosters received two new FCC certifications for new mobile cellular signal booster solutions.
The two new SmoothTalker STEALTH TECH® cellular signal boosters provide reliable voice connection and increased data speeds for all carriers. These boosters are available kitted with CLA or fused power and many different outside antennas. The two boosters launching at IWCE are:
Stealth M2M, a 15dB direct-connect cellular modem booster, ideal for enhancing M2M cellular modem communications by increasing data speeds (up to 2x) and providing a reliable connection.
Mobile CX1, a 23 dB coupling-connect cellular booster connects with SmoothTalker custom cradles including recent models for iPhone, Samsung or Blackberry as well as the best Universal cradle in the industry.
Mobile Communications or "SmoothTalker" manufactured the first FCC and Industry Canada certified booster in 2001. Their proprietary STEALTH TECH® technology, developed 3 years ago, ensured total network protection which is now the type of technology that the FCC mandates in the new rules governing cellular signal boosters.
Recently, the FCC has provided an industry extension until April 30, 2014 for all cellular signal booster manufacturers to comply with the new FCC Network Protection Standard.
Tom Vagenas, SmoothTalker CEO states, "We are pleased with our recent certifications and have many other mobile, fixed and M2M cellular boosting solutions pending. We will be launching these new solutions at IWCE in Las Vegas March 26-27 and it is going to be a great year for the industry."
SmoothTalker boosters extend cellular coverage and get you connected in places you were never able to communicate with a cellular device. SmoothTalker cellular signal booster solutions have always been meticulously designed to allow a unique harmony between the mobile station and base station which makes them invisible to the cellular networks and employ all the necessary safeguards which prevent any unwanted network interference.
About SmoothTalker
SmoothTalker designs and engineers leading edge products that enhance the total cellular phone experience. They first began developing SmoothTalker cellular products in 1995.
Research and development into Digital Signal Boosters began in 1998, because of identified needs for improved cellular coverage in remote areas. SmoothTalker was the pioneer in this technology. In December 2001 SmoothTalker received the first FCC approval for our GSM/TDMA Digital Mobile Booster. This was followed with the first FCC boosters for iDEN (Nextel) and for CDMA networks. This commitment to meeting the needs of the user and the network resulted in the most advanced wireless amplifier technology on the market today "STEALTH TECH" ®.
SmoothTalker will continue the evolution of Signal Booster technology and keep raising the bar ever higher as the need for the product line continues to grow.
Today, we offer our customers the largest selection of in-vehicle custom charging cradles in North American; durable fixed-in-vehicle Hands-Free Kits that are both simple and satisfying to use and the absolute best performing signal boosters available.
Contact: Kevin Carter, Director of Business Development, SmoothTalker
Phone: 1-877-726-3444
Email: Kevin.c(at)smoothtalker(dot)com
About IWCE
March 26-27, 2014
SmoothTalker booth #9057
IWCE is the authoritative annual event for communications technology in the working world. Over 7,500 technology buyers from a diverse group of industry professionals from government, public safety, transportation, utilities and other enterprises gather together at IWCE to see the latest in effective and efficient communications systems. IWCE provides the foundation for the technology, operations, engineering and governance for your communications technology networks, systems and services. http://www.iwceexpo.com