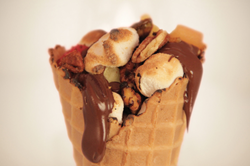 Renowned TV chef George Duran has created a fun, easy, and slightly healthier version of the s'more.
Santa Clara, CA (PRWEB) July 14, 2014
As the mercury continues to rise during the summer, everyone's thoughts turn to cookouts, camping, and that great American culinary treat: the s'more. With National S'mores Day approaching Sunday, August 10th, Santé Nuts put its own nutty twist on the traditional s'more recipe.
Renowned TV chef and personality George Duran (of Host of TLC's "Ultimate Cake Off" and Food Network's "Ham on the Street") created a fun, easy, and dare we say slightly healthier version of the s'more. Simply fill any waffle ice cream cone with chocolate chips, mini marshmallows, chopped fruit, and any flavor of Santé Nuts, chopped (the Candied Pistachios work particularly well). Wrap the cones in foil and toast gently on the grill, over the campfire, or an oven. Kids can create their own s'more cone easily, using any combination of flavors they like. It's also less messy, but you still get same full gooey, melty effect as the traditional version.
Full recipe here, along with George's recipe tutorial video. George is available for media appearances and s'mores cooking demos in the greater New York area. Santé will also be holding a Facebook contest from August 4-12th. Post a picture of your s'mores (with nuts!) on the Santé Facebook page and the top three favorite photos will win a Single Serve Sampler.
Santé Specialty Foods
Santé Nuts are proudly made in the U.S.A., produced and packed in Aharoni & Steele, Inc.'s manufacturing facility in Santa Clara, Calif. Santé Nuts are all-natural, gluten-free, Kosher, and made by hand in small batches with only the highest quality ingredients, including organic canola oil. For more information, recipes or orders, please contact us at (408) 451-9585 or http://www.santenuts.com. Facebook.com/santenuts, Pinterest.com/santenuts, Twitter: @SanteNuts.
###