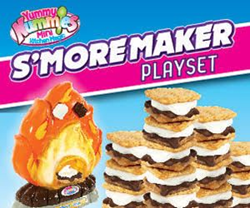 Yummy Nummies lets kids create their own favorite foods at a bite size scale with ease.
Minneapolis, MN (PRWEB) August 12, 2016
Blip Toys is thrilled to announce the S'mores Maker Playset, the newest addition to Yummy Nummies Mini Kitchen Magic. Nothing says summer like this classic campfire treat, and now kids can whip up their own in minutes! The S'mores Maker Playset looks just like a campfire, complete with a light-up and flicker action. It's perfect for setting up "camp" in the living room and sharing the delicious combination of graham crackers, marshmallows and chocolate with friends. The S'mores Maker Playset includes graham cracker, chocolate and marshmallow mixes, as well as a microwavable tray, measuring scoop, spoon, campfire spatula and instruction sheet.
Yummy Nummies Mini Kitchen Magic lets kids create all of their favorite foods with ease. With food ingredients made in the USA, these tiny treats are real food at a small scale. Yummy Nummies even helps kids develop skills through play, including creativity and following directions for cooking. Little chefs can proudly share their creations with friends, and parents can rest assured that Yummy Nummies activities are safe: all kitchen utensils are BPA-free and disposable, and while some kits require a few seconds in the microwave, none of the food requires an oven, stovetop or open heat source.
Yummy Nummies playsets include the S'mores Maker, Soda Shoppe Maker and Sundae Maker. Individual food kits come in themes such as Diner Delights, Bakery Treats and Candy Shop, and include an incredible range of foods and desserts; from savory delights like hamburgers and tacos to sweet treats like donuts, cupcakes and brownies. Simply mix, make and enjoy!
Blip Toys, established in Minnesota in 2000, is renowned for its on-trend toys. The company prides itself on creating innovative toys that capture kids' interest and appeal to a variety of play styles. Blip Toys' brands include Squinkies, which shattered expectations when it launched the craze for tiny collectibles when they hit the market in 2010 (re-launched in 2016 as Squinkies 'Do Drops), as well as Disney Whisker Haven Tales with the Palace Pets, Street Shots Racers, Bright Eyes Pets, and Zoom-O.