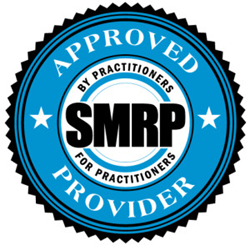 We encourage maintenance and reliability professionals alike to build business connections with practitioners and industry leaders, like Smartware Group. It is rewarding to have them a part of our program. -- Jon Krueger, Executive Director of SMRP
Center Harbor, NH (PRWEB) August 21, 2015
Smartware Group Inc., producer of Bigfoot CMMS for maintenance professionals worldwide, has been designated as an Approved Provider of Continuing Education and Training by the Society for Maintenance & Reliability Professionals (SMRP).
SMRP is a non-profit, professional society committed to advancing the practice of maintenance, reliability and physical asset management. Among its many benefits, the organization provides educational opportunities and ANSI-accredited certifications for members, including the Certified Maintenance & Reliability Professional (CMRP) designation.
As an Approved Provider, Smartware Group is recognized for its exceptional training program in reliability and physical asset management. Bigfoot CMMS users will now have the ability to receive credit towards SMRP CMRP recertification through both virtual and on-site sessions.
"SMRP is widely considered the premier asset management resource for companies looking to improve their processes and procedures," said Jon Krueger, Executive Director of SMRP. "As such, we encourage maintenance and reliability professionals alike to build business connections with practitioners and industry leaders, like Smartware Group. It is rewarding to have them a part of our program."
The Approved Provider program is new this year and is meant to give SMRP members certainty that they are receiving high-quality education from a vetted group of training providers.
"We are gratified to see that our efforts to create a valuable training experience for Bigfoot users has been validated by SMRP, an organization we hold with high regard in the industry," said Paul Lachance, President and CTO of Smartware Group. "Our continued program development is driven by our commitment to helping maintenance professionals achieve their goals with great success."
Smartware Group completed a rigorous application process and demonstrated that its training program aligns with the Maintenance and Reliability Body of Knowledge (BoK). The company has been selected as a Tier 1 Approved Provider for the following courses:

Bigfoot Enterprise Orientation
Bigfoot Enterprise Advanced Configuration
Bigfoot CMMS Equipment Profiles
Bigfoot CMMS PMs
Bigfoot CMMS Work Orders
Bigfoot CMMS Inventory
Bigfoot CMMS Requests
Bigfoot CMMS Reports
Bigfoot CMMS OSH
Bigfoot Enterprise On-Site Training
The trainings are available to clients via the Bigfoot CMMS Customer Portal, and at various onsite locations. To learn more about Bigfoot training and receiving CMRP credits, contact the Bigfoot CMMS training team at Smartware Group.