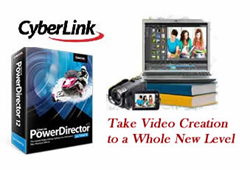 National (PRWEB) September 17, 2014
SMS Tech Solutions is working with CyberLink to spread the word that there are affordable and easy-to-use media solutions available to teachers and students. CyberLink offers savings of up to 60% off their retail price to K-12 and Higher Education. The offer for PowerDirector 12 Ultimate Suite is good until October 15, 2014.
CyberLink's cutting-edge products such as PowerDVD, PowerDirector, and Media Suite are among the world's best digital media applications. For educator's developing a more engaging curriculum, and students creating projects, portfolios and resumes, CyberLink has the tools needed to stand out in the classroom.
SMS Tech Solutions can provide electronic software downloads immediately upon academic verification. Click here for more information.
Click here for information on CyberLink Classroom Packs.
SMS Tech Solutions, headquartered in NC, provides technology solutions nationally for K-12, Higher Ed, Non-Profits, SMB, Commercial, State and Local Government. http://www.smstechsolutions.com.