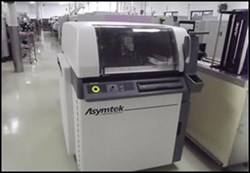 Baja Bid set to kick off its next online SMT equipment auction.
Nationwide (PRWEB) October 13, 2013
The sale will feature used SMT equipment and will run from 8 a.m. EST, Tuesday, October 15th until Thursday, October 17th, concluding at 11 a.m. Interested parties are encouraged to register as soon as possible, and may preview the SMT equipment for sale on the Baja Bid website at http://www.bajabid.com
The upcoming SMT equipment auction includes such items as board loaders, SMT machines, SMT feeders, screen printers, in-line conveyors, glue machines, shuttle conveyors, reflow ovens, board flippers, fifo buffers, presses, material handling carts and more.
Manufacturing and assembly businesses can save both time and money while still finding high quality equipment through an online auction, "It takes a lot of time and efforts to buy or sell equipment. Buyers and sellers either have to attend on-site bidding process for which they have to spare extra time or to participate in an online auction. Spending time away from the business matters without any guarantee of a successful bid is not a particularly advantageous option. However, placing a bid online without wasting much time makes much more sense," explains Derick Aldo of Business Marketing Platform.
By utilizing the inherent value of an online, SMT equipment auction, businesses are able to acquire affordable equipment to grow their production capacity without having to incur the expense of purchasing new equipment. Such auctions help businesses needing to liquidate or sell excess machinery while providing real value to buyers. Bidders often purchase machinery at a discounted price. Even better deals can be found through online auctions because there is much less overhead involved in the process of hosting the event.
Buyers can rest assured that the showcased equipment is properly represented because the auction house has to protect its reputation, "When it comes to online auction, certain kind of risk is always involved. Sellers usually arrange an affiliated appraiser who inspects the equipment carefully. Then the auctioneer provides all the relevant information related to the equipment for an on-site listing. This means the chances of getting misleading information are quite low because the reputation of the auction company is at stake. Once the appraiser posts the information to be seen by the bidders the process of auction starts on the website," Mr. Aldo elaborates.
Auction hosts like Baja Bid also provide other valuable commercial grade services, such as asset valuation, consignment services, and facility closure buy out services. Businesses wanting to know the worth of their assets, or fetch the highest price when selling equipment can take advantage of asset valuation and consignment programs. For manufacturers or assembly companies closing out a facility, the buy-out service is invaluable.
The upcoming SMT equipment sale will showcase many items specific to the electronics manufacturing and assembly industries. Said items are valued prior to placement in the auction, and bidders are welcome to preview all of the lots appearing in the upcoming event through the Baja Bid website. The auctioneer will happily answer any questions in advance of the event as well as field any questions during the bidding period.
Interested parties are likewise encouraged to compare prices of brand new equipment to see, firsthand, the substantial savings of purchasing needed machinery through an online auction.
For more information about this SMT equipment auction and to see previous assembly equipment auctions, and/or what Baja Bid can do for your business, visit http://www.BajaBid.com . Interested parties can also email the auctioneer at baja(at)bajabid(dot)com. Questions about the upcoming auction events can be directed to Arlin Horsley at 813-992-2437 or arlin(at)bajabid(dot)com, or phone Jocelyn Long at 813-357-9884 or email jocelyn(at)bajabid(dot)com.