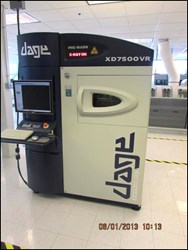 Register Now at http://www.bajabid.com for the New SMT Online Exchange Auction Beginning on August 27th
Nationwide (PRWEB) August 22, 2013
Baja Bid has been credited by several businesses as one of the best assembly line auction services in the world. Equipment for sale includes used SMT machines, as well as many more manufacturing, assembly and production machines. The company's best known for its unparalleled ability to mass-market and conduct global online auctions which focus exclusively on well-known and respected buyers, targeting business entities specifically operating in the electronic manufacturing and assembly industry.
The auction facilitator explains that its auction platform allows companies to purchase equipment, usually at below market value. Cost-conscious businesses will typically find deep discounts in its upcoming SMT equipment liquidation sale.
Baja Bid has built a reputation for its ability to offer a wide variety of useful SMT equipment and much more. The company's site offers several successful options, substantially benefiting all the parties involved. The auctioneer explains that new businesses which take growth potential seriously do not frontload equipment purchases. Rather, these businesses purchase incrementally or buy large quantities in bulk at a discounted price. Savings are substantial and that same equipment can often be sold once again in order to offset the cost of purchasing upgraded models.
Businesses often sell excess equipment to cut maintenance costs and raise capital in a very short period of time. Some companies streamline operations during an acquisition or merger. Still others are placed in receivership. No matter how these entities come into the process, there are a number of other businesses which can and do use equipment, particularly when bought at a discount. Some companies choose to upgrade, leveraging the sale of machinery to purchase new equipment.
Baja Bid is also a leading provider of other business services. The company, in addition to promoting and hosting online equipment auctions, also has a consignment program, an asset analysis service, as well as a cash buyout program.
Its consignment service targets specific businesses, both domestic and overseas, allowing companies to sell equipment at a higher price. The company's thorough asset analysis provides businesses with a fair market resale value of equipment, while its buyout program allows companies to complete an entire facility closure in a timely manner.
Parties interested in bidding on the upcoming auction can register on the Baja Bid website at, http://www.bajabid.com . This online auction will include some newer vintage equipment that is generally not available on the used market. These items include such equipment as a Dage XD7500VR X-Ray Inspection System, a Mydata MY12 SMT Pick & Place, Agilis Feeders and Inserts, an upgraded Yestech YTV-2050 AOI, a Seica Flying Probe Tester, a Siemens HF3 SMT Pick & Place, a DEK Horizon Screen Printer and much more…
Winning bidders can pay via cash, certified check or bank wire transfer. Equipment will be available to claim beginning Friday, August 30th, until Friday, September 13th.
For more information about this assembly line auction and to see the full line of inventory in the upcoming used SMT equipment auction, and to learn what Baja Bid can do for manufacturing and assembly businesses, please visit BajaBid.com or phone the company at 813-992-2437. Interested parties can also email the auctioneer at baja(at)bajabid(dot)com. Questions about the upcoming event can be directed to Arlin Horsley at 813-992-2437, or via email at arlin(at)bajabid(dot)com. Questions can also be answered by phoning Jocelyn Long at 813-493-4491, or by emailing jocelyn(at)bajabid(dot)com.