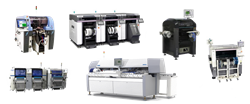 Professional Grade Pick and Place SMT Machines Are Now Available with SMT Line Auction Platform.
Nationwide (PRWEB) August 07, 2013
Recent pick and place SMT auction reviews show that many other SMT line auctions have had little to choose from, but that's about to change with Baja Bid.
In the course of expanding a company, or starting a business, expenses add up quickly, but bargains can be found by looking in the right places. "Many small-business owners dream of owning an office with brand-new furniture, up-to-the-minute computers and phone systems, and every ergonomically correct device on the market. The reality, of course, is that some growing businesses can't afford these luxuries." According to an article on AllBusiness.Com "The Internet is a fantastic place to find new or used equipment at bargain-basement auction prices. Some web sites even post auction dates, items for sale and company other details."
Baja Bid is proud to unveil its pick and place SMT equipment initiative, which will provide substantial savings to companies wishing to expand and to entrepreneurs with tight start-up budgets.
Research and new reports have found that by purchasing used pick and place SMT machines, companies can actually purchase more for less. In fact, some pick and place SMT auction reviews have discovered that companies can "save up to 60 percent by buying used computer equipment, copiers and office furniture."
According to a business insight article published on Entrepreneur.com "Auctions and newspaper classifieds are often reliable sources of used equipment."
With such deep discounts, it's possible for businesses to get the pick and place SMT equipment they need without leveraging debt instruments against them. Such financing creates a problem and places a substantial burden on the borrowing entity.
Buying used pick and place SMT machines outright, allows companies to realize a far greater return on their investment. In turn, this acquired financial gain will also contribute to the local economy in the form of more jobs and less expensive consumer products.
For more information about the pick and place SMT equipment platform, to see the inventory of the upcoming auctions, or to see how Baja Bid can help your business, visit Baja Bid.com, or phone the company at 813-992-2437. Interested parties can also email baja(at)bajabid(dot)com. Questions about the upcoming SMT auction can be directed to Arlin Horsley at 813-992-2437 or arlin(at)bajabid(dot)com, or phone Jocelyn Long at 813-493-4491 or e-mail jocelyn(at)bajabid(dot)com.