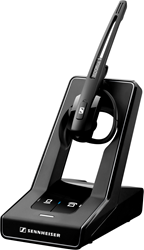 Old Lyme, CT (PRWEB) June 16, 2015
Sennheiser, a leading manufacturer of premium headset solutions, announced it has entered into a new distribution agreement with 888VoIP, an industry leading distributor of IP telephony hardware, software, and services to the VoIP channel. As part of this agreement, 888VoIP will carry Sennheiser's line of high-performance headsets for the contact center and office (CC&O) marketplace. By adding the Sennheiser products, 888VoIP will provide its network of telecommunications resellers and dealers with a comprehensive line of high fidelity, durable audio headsets for unified communications deployments.
Sennheiser's CC&O headsets feature outstanding audio intelligibility, durability and comfort, giving dealers an high-end offering to complement the most robust and sophisticated turnkey unified communications network. Models include wired, wireless, mobile, Bluetooth, Wi-Fi and DECT desktop models, including the D 10 series, SD wireless, Century, Circle, Culture, MB and PRESENCE units, in addition to mobile speakerphones like the new SP 10 and SP 20 devices.
Through the agreement, warehousing, logistics, and fulfillment of orders for the Sennheiser CC&O products will be executed by 888VoIP's team of authorities in the voice-over IP sector. 888VoIP will now attach leading Sennheiser headsets to its pre-configured VoIP hardware, which can be blind-shipped from a private stock via 888VoIP's custom logistics.
The addition of the Sennheiser high-performance unified communications headsets rounds-out 888VoIP's portfolio of best-in-breed VoIP products. The distributor's assets, such as its easy-to-use ordering API and its team of trusted VoIP advisors, will help resellers and dealers select the perfect Sennheiser headset to complete their end-to-end VoIP solutions.
"Sennheiser has been proactively expanding its distribution footprint throughout North America, including two agreements with major distributors in Canada this quarter, in addition to our new relationship with 888VoIP in the US," said Doug Bowersox, National Sales Manager, Sennheiser. "We're proud to add 888VoIP to our list of distribution partners, who will extend their expertise and acumen in VoIP to our mutual customers in this crucial marketplace. We want to engage and support the IT and telephony reseller community, offering a high-grade option that lives up to the quality and capability of any powerful unified communications network. 888VoIP is a prime choice to help us achieve that goal."
"888VoIP is pleased to be working with Sennheiser. The company has an impressive track record of success and is well known in the audio industry," commented Jacob Buckley, 888VoIP business development manager. "Sennheiser headsets bring an incredibly strong value proposition to our channel. We are honored to deliver that value, compounded with our existing value-adds of people, products, and process."
Caption:
Sennheiser's SD Office is a single-sided premium DECT wireless headset for desk phones and softphones.
About 888VoIP
888VoIP is an industry leading VoIP hardware, software, and professional services distributor. For years, VoIP resellers, integrators, and service providers have relied on 888VoIP's knowledgeable and professional team to be their trusted advisors through 888VoIP's Reseller Channel Program and the 888VoIP ChannelAdvantage. Manufacturers count on 888VoIP's experienced staff and network of certified partners to expertly handle product distribution, technical support, warranty management, and solutions integration. For more information, please visit http://www.888voip.com.
About Sennheiser
The Sennheiser Group, based in Wedemark near Hanover, Germany, was founded in 1945 and has gone on to become a leading manufacturer of microphones, headphones and wireless transmission systems. Sales in 2013 totaled 590.4 million euros. Sennheiser employs more than 2,500 staff worldwide and operates plants in Germany, Ireland and the USA. The company has a worldwide network of subsidiaries in France, Great Britain, Belgium, the Netherlands, Switzerland and Liechtenstein, Germany, Denmark (Nordic), Russia, Hong Kong, India, Singapore, Japan, China, Australia and New Zealand, Canada, Mexico, and the USA. It also has long-established trading partners in other countries. Georg Neumann GmbH, Berlin, a maker of studio microphones and monitor speakers, and Sennheiser Communications A/S, a joint venture making headsets for PCs, offices and call centers, are also part of the Sennheiser Group.
You can find all the latest information on Sennheiser headset solutions for the contact center and office marketplace by visiting http://www.sennheiser.com/cco