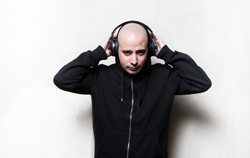 New York, NY (PRWEB) March 10, 2015
Sennheiser's MOMENTUM campaign has highlighted dozens of unique sound stories from all over the world: stories about creators with MOMENTUM and people who push the world forward with their creative passions. These stories feature artists, innovators and entrepreneurs in the most authentic sense, and serve to inspire others to uncover their own unique MOMENTUM.
EKLIPS is the latest visionary creator to share his inspiring story. One of the world's preeminent beatbox artists, the globetrotting Parisian uses his mouth to recreate a mind-bending range of musical sounds. Since 1990, he has dazzled audiences all around the world, continuing to push the boundaries of his craft as he tours both as a solo artist and in support of other artists such as MOP, DMX and Kerry James.
It comes as no surprise that a man with a passion for absorbing and replicating sounds from world around him was drawn to New York City to record his latest album. "I like the energy here, positive energy," he says. "It's where the roots of hip-hop are." But EKLIPS takes the art of beatboxing well beyond its hip-hop roots on his latest effort, which touches on soul, jazz, and rock influences along the way. Fittingly titled #LIPS, the new ten-track LP mixes five original compositions with covers of what he describes as "classics I've loved since I was a teenager." Unlike the original versions of those classics, however, every note is reimagined and recrafted through layered samples of EKLIPS' beatbox artistry.
EKLIPS teamed up with producer Diesel, who was eager to help him achieve his vision of recording a vocal-only studio album. "He's such a talented artist and can do things with his voice that are just amazing," comments Diesel. The pair settled in at Engine Room Audio in Lower Manhattan to begin work. "The real fun in this album is using a broad selection of mics for capturing vocals," says Diesel, who used a range of Sennheiser and Neumann microphones to capture EKLIPS' voice. "For a kick drum sound it's best to use a handmic, so we used the Sennheiser evolution 900 series – EKLIPS muffled the mic with his hands to give it that 'thump' like a kick drum from a real drum kit." A Neumann TLM 49 was also used to accurately capture every nuance of other sounds EKLIPS was producing. "It's really transparent and great for horn sounds and some of the drums like hi-hats or cymbals and bass sounds as well," Diesel notes.
MOMENTUM in New York City
EKLIPS found the sights and sounds of New York City refreshing and inspiring. "There is a sense of MOMENTUM there," he says, "and the MOMENTUM Wireless is a great companion for hitting the streets – keeping me free to move, to follow the energy." EKLIPS listens to sounds whever his travels may take him, and reinterprets these sounds in his own music with astounding mimicry.
Sennheiser was granted exclusive access to the recording sessions for #LIPS to document the incredible skill and creativity that shapes each track in the studio through videos, pictures, and interviews. "Most people react really strongly to the human voice," says Diesel. "When you hear one of the completed songs on #LIPS, the way people react comes from the senses, from the ear, from the heart because the human voice is organic." EKLIPS was pleased to collaborate with Sennheiser in capturing his MOMENTUM. "As an artist, working with Sennheiser has been a pleasure," he says. "I live music, they live music."
For more information and to learn about other people with MOMENTUM, visit http://www.sennheiser-momentum.com.