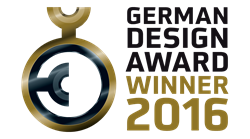 Not only good looking, but also a confident statement that stands for quality and ambition
Old Lyme, Conn. (PRWEB) November 02, 2015
Sennheiser, a leading provider of premium headsets and speakerphone solutions, has taken home the highly respected, top prize for Excellent Product Design for its Speakerphone SP 10 ML/ SP 20 ML at the German Design Award 2016. The portable Speakerphone convinced the international jury with its elegant design as well as its sound and voice quality.
"Not only good looking, but also a confident statement that stands for quality and ambition", noted the jury when presenting Sennheiser's Speakerphone SP 10 ML and SP 20 ML as a winner of this year's German Design Award 2016 in the category Excellent Product Design - Computer & Communication.
From 3,400 entries, more than half of them in the area of Product Design, the compact portable speakerphones were chosen by the international jury of design experts for their "form and function at a high level". Combining both, Sennheiser's award-winning* conferencing solution supports productivity and performance of mobile business professionals.
"We are very honored to receive this recognition by the German Design Award," says Lars Riis Rasmussen, Vice President of Sales and Marketing, EMEA, at Sennheiser Communications. "We have a proud history of innovation, of reimagining what is possible, and of pushing for the highest performance and quality. At the same time, we consider how design best complements technology and business needs to fit people's personal work- and lifestyles. The award is a great acknowledgement of our efforts and an encouragement for us to keep pushing boundaries."
With 'plug in and talk' simplicity, Sennheiser's lightweight speakerphone turns any room into an office, facilitating personal and small group conference calls via PC or mobile/tablet. Sennheiser sound quality ensures a clear, natural communication experience for speaker and listener alike. Dedicated sound-enhancement profiles automatically adapt and optimize sound for communications and multimedia/music purpose. Certified for Skype for Business and optimized for major UC and softphone brands, the flexible series supports the work-style of modern offices and office workers.
The prestigious German Design Award is the top international prize of the German Design Council. Its goal: to discover, present and honor unique design trends. Every year, top-quality entries from product and communication design are rewarded, all of which are in their own way ground breaking in the international design landscape.
*Recognized with the prestigious 2014 red dot and 2014 iF design awards
About Sennheiser
Audio specialist Sennheiser is one of the world's leading manufacturers of headphones, microphones and wireless transmission systems. Based in Wedemark near Hanover, Germany, Sennheiser operates its own production facilities in Germany, Ireland and the USA and is active in more than 50 countries. With 18 sales subsidiaries and long-established trading partners, the company supplies innovative products and cutting-edge audio solutions that are optimally tailored to its customers' needs. Sennheiser is a family owned company that was founded in 1945 and which today has 2,700 employees around the world that share a passion for audio technology. Since 2013, Sennheiser has been managed by Daniel Sennheiser and Dr. Andreas Sennheiser, the third generation of the family to run the company. As part of the Sennheiser Group, the joint venture Sennheiser Communications A/S specializes in wireless and wired headsets and speakerphones for contact centers, offices and Unified Communications environments as well as headsets for gaming and mobile devices. In 2014, the Sennheiser Group had sales totalling €635 million. http://www.sennheiser.com