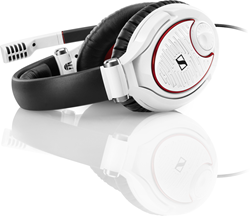 We are very pleased to be working with Sennheiser to deliver the high-quality design and legendary sound of their headphones to select retailers
Old Lyme, Conn. (PRWEB) September 02, 2015
Audio specialist Sennheiser announced that it has signed a distribution agreement with New Age Electronics, a leading distributor of consumer electronics and gaming products and services and a division of SYNNEX Corporation (NYSE: SNX). Effective immediately, New Age Electronics is an authorized distributor of selected products within Sennheiser's consumer electronics line, including its range of gaming, lifestyle, home audio and sports headphones and accessories. The agreement comes in addition to SYNNEX Corporation's relationship with Sennheiser to distribute its conferencing systems, microphones, and wireless equipment to AV systems integrators in the commercial space.
Through the agreement, New Age Electronics distributes Sennheiser's premium products to retailers in strategically targeted segments, while offering bundled solutions to increase the end-user value offering. As a trusted CE distributor, New Age Electronics is able to leverage its sophisticated logistics and operational expertise, while focusing on long-term relationships with a highly strategic network of retailers.
"Our agreement with New Age Electronics enables us to reach strategic retail segments more efficiently, increasing both our market penetration and brand awareness in the U.S.," commented Keith Kranepool, Vice President, Sales, Americas, Sennheiser. "By leveraging New Age Electronics' network of retailers, we have an immediate opportunity to increase our success in the gaming, sports and lifestyle segments, among others."
"We are very pleased to be working with Sennheiser to deliver the high-quality design and legendary sound of their headphones to select retailers," said Fred Towns, President, New Age Electronics. "Our agreement allows us to reach the early adopters and sophisticated listeners in today's marketplace who are looking for a superior audio experience catered to fit their lifestyle."
New Age Electronics is supported by a team of seasoned product management and sales professionals who research, identify and advise retailers on increasing sales and achieving successful outcomes in Consumer Electronics. The company's line card includes leading offerings in personal computing, audio, gaming, home automation, and wearables, among other product categories.
To learn more about Sennheiser through New Age Electronics, call (800) 947-5974, email mikemu(at)synnex.com, or visit newageelectronics.com.
About Sennheiser
Audio specialist Sennheiser is one of the world's leading manufacturers of headphones, microphones and wireless transmission systems. Based in Wedemark near Hanover, Germany, Sennheiser operates its own production facilities in Germany, Ireland and the USA and is active in more than 50 countries. With 18 sales subsidiaries and long-established trading partners, the company supplies innovative products and cutting-edge audio solutions that are optimally tailored to its customers' needs. Sennheiser is a family-owned company that was founded in 1945 and which today has 2,700 employees around the world that share a passion for audio technology. Since 2013, Sennheiser has been managed by Daniel Sennheiser and Dr. Andreas Sennheiser, the third generation of the family to run the company. In 2014, the Sennheiser Group had sales totalling €635 million. http://www.sennheiser.com
About SYNNEX
SYNNEX Corporation (NYSE: SNX), a Fortune 500 corporation, is a leading business process services company, optimizing supply chains and providing customer care solutions for its clients. SYNNEX distributes a broad range of information technology systems and products, and also provides systems design and integration services. The Concentrix segment offers a portfolio of end-to-end outsourced services around process optimization, customer engagement strategy and back-office automation to clients in ten identified industry verticals. Founded in 1980, SYNNEX operates in 25 countries around the world. Additional information about SYNNEX may be found online at http://www.synnex.com.
About New Age Electronics
New Age Electronics, a division of SYNNEX Corporation (NYSE: SNX), is a sales and supply chain solutions innovator that provides consumer technology (CT) manufacturers with a broad offering of logistics, distribution and remanufactured services. Extensive experience in the CT industry and a customer-centric approach has made New Age Electronics the provider of choice. New Age Electronics distinguishes itself with efficient operations and relentless focus on customer satisfaction. Founded in 1988, New Age Electronics is headquartered in Carson, California. For more information about New Age Electronics, call (310) 549-0000, toll-free (888) 234-0300 or visit the company's website at http://www.newageelectronics.com.
SYNNEX, the SYNNEX Logo, NEW AGE ELECTRONICS, the NEW AGE ELECTRONICS Logo, CONCENTRIX, and all other SYNNEX company, product and services names and slogans are trademarks or registered trademarks of SYNNEX Corporation. SYNNEX, the SYNNEX Logo, NEW AGE ELECTRONICS, the NEW AGE ELECTRONICS Logo, and CONCENTRIX Reg. U.S. Pat. & Tm. Off. Other names and marks are the property of their respective owners.