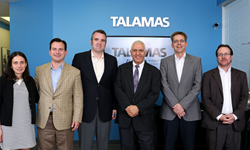 Our relationship with Sennheiser has been so important because without the unwavering support and close relationship of the manufacturer, we could not have become what we are now
Old Lyme, CT (PRWEB) December 15, 2014
Dave Talamas started Newton, MA -based Talamas Sound in July 1979. Talamas wasted no time building on its foundation of now time-tested principles: an unwavering commitment to customer service, a willingness to anticipate trends in the industry and an emphasis on maintaining strong relationships. Sennheiser Electronic Corporation was among the first companies with which Talamas Sales and Rentals developed a lasting relationship.
With its deep knowledge of broadcast, audio and video technologies and a commitment to be more than a 'box house,' Talamas soon developed a loyal customer base. "I remember one of my first sales was the Sennheiser MKH 804 shotgun microphone — a predecessor of the cur-rent MKH 8070," says Talamas, who is now CEO of the company. "Since then, Sennheiser has continually evolved their entire product line. When the 5000 wireless series was introduced, it became the standard on Broadway, while the 2000 series was almost immediately adopted by the broadcast market. The EK 3041 camera-mounted true diversity receiver was also a game changer; the producers loved it because it was small, light, and very reliable."
Talamas Sound has worked alongside Sennheiser to support its more recent innovations as well, such as the Digital 9000 wireless system — which he sees as an important step forward for the industry as spectrum challenges become more pervasive: "The new digital systems Sennheiser is developing, such as the Digital 9000, utilize bandwidth much more efficiently, and without compression. This is so important because the next generation of broadcasters will not be using the same frequency bands given the shrinking spectrum they will be facing."
Innovation, Education and Relationships
In addition to bringing its customers up to speed on important issues facing the broadcast industry such as the potential implications of the FCC's impending spectrum repacking, Talamas Sales and Rentals also routinely educates end-users on topics such as microphone techniques and wireless microphone applications. Last month, at its new 1,400 square foot meeting space, the company hosted Sennheiser's David Missall for a seminar covering these and other important broadcast production considerations.
While the broadcast technology landscape may have changed dramatically over the last three decades, some things haven't changed, including the company's longevity with customers, vendors and its own employees: "We have maintained our integrity over the course of our history," says Diane Talamas, Chief Financial Officer of Talamas Sound. "We have always been there for our customers, as Sennheiser has always been there for us. During our relationship with Sennheiser, they have always stood behind their products, and for us, this is key. If an issue comes up, they help resolve it and will never walk away from the problem."
For Dave Talamas, it all comes back to relationships: "Our relationship with Sennheiser has been so important because without the unwavering support and close relationship of the manufacturer, we could not have become what we are now," he concludes. "In many ways, our company shares similar values to Sennheiser: we are customer oriented and have a deep tech-nological expertise." As for the quality, in all his 35 years, there has never been a question. "When I am offering a client a Sennheiser product, I don't talk them up — I just have them listen."