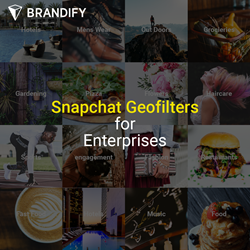 Today, we present brands the opportunity to deliver their brand message to this audience in a more curated, local, and culturally relevant way
Anaheim, CA (PRWEB) April 25, 2017
Brandify,the industry-leading provider of location-based digital marketing solutions, today announced its inclusion as a Snapchat Partner, launching Snapchat Geofilters for Enterprises.
As a Snapchat Partner, Brandify will immediately begin supporting multi-location campaign Ad management for enterprises. The integration of the Snapchat ads API will allow brands to seamlessly launch Ad campaigns for hundreds to thousands of locations using multiple creative, times, and dates. Brands will experience higher control over their local message delivery and performance.
Having serviced over 500 enterprise brands, Brandify, will be leveraging its field-tested data management and cleansing technology to ensure Geofilter campaign performance, management, and scale. Furthermore, the Brandify Snapchat Geofilter for Enterprise solution will be full service, including creative. Coupled with the powerful user and discoverability insights via the API, brands will be well positioned to win new audiences through optimization strategies.
"The power behind Snapchat are many and what is exciting most, is the access our integration will give brands to engage with an audience inherently built to be a community of hyperactive, daily, users," said Brandify CEO, Manish Patel. "Today, we present brands the opportunity to deliver their brand message to this audience in a more curated, local, and culturally relevant way using our platform."
Today's launch is set to expand Brandify's local-social advertising enterprise solution for retail, finance, restaurants, healthcare, auto, and more. In partnership with Brandify Labs, the company sets to continue finding new and innovative ways to evolve further Brandify's platform continuing its mission to connect online consumers to offline locations.
Brandify's Snapchat Geofilters for Enterprises are immediately available, to learn more and get started visit, visit http://www.brandify.com/solutions/snapchat/.
About Brandify
Brandify is the single answer to Local, connecting global brands with consumers in the moment by leveraging the most comprehensive location technology solutions in the market. Brandify has simply connected over 500 global brands in over 4.5 million locations, including healthcare, finance, and retail, to consumers worldwide since 1997. The company provides the multi-location digital marketing technology, services and intelligence needed to understand consumer intent. Marketers can simplify local decisioning with actionable recommendations, using its' field-tested benchmarking metric, Brandscore. To learn more about Brandify, please visit http://www.brandify.com/ and follow us on Twitter at https://twitter.com/GoBrandify.