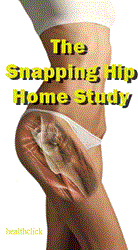 "Snapping" is a common complaint regarding structures in and around the hip joint.
Franklin, TN (PRWEB) January 31, 2014
"Snapping" is a common complaint regarding structures in and around the hip joint. Known as coxa saltans, snapping hip syndromes are traditionally classified into three categories: Internal, external, and intra-articular. The associated snapping is most likely caused by a tendon passing over a bony structure or mechanical signs of an intra-articular injury. Approaches to diagnosis and treatment are unique and range from conservative management to surgical procedures. This PT online continuing education course delivers updated information on this condition and supports learning about the hip complex.
Online Continuing Education Course for PT, OT, PTA, COTA and ATC State Pre-approvals
The California Physical Therapy Board has approved North American Seminars, Inc. as an approval agency to approve providers offering continuing competency courses. This course meets the standards set forth in section 1399.96 of the California Code of Regulation and is approved for 15.0 hrs, 1.50 CEU's for physical therapy continuing competency license renewal requirements in the State of California.
This course meets the continuing education requirements for physical therapists in the States of Alaska, Colorado, Connecticut, Idaho, Indiana, Massachusetts, Missouri, Montana, New Hampshire, North Carolina, Oregon, Rhode Island, Utah, Vermont, Virginia, Washington and Wisconsin. The New York State Education Department, Office of the Professions has approved NAS as a continuing education sponsor for physical therapists and assistants licensed in New York. This course has been approved for CEU approval by the Maryland Board of Physical Therapy Examiners.