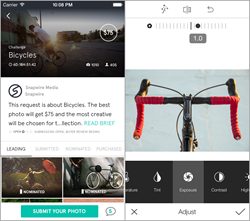 Snapwire can now be used as a stand alone photo editing platform; offering some of the strongest image editing algorithms in the industry
Santa Barbara, CA (PRWEB) October 02, 2014
Snapwire, the platform that connects a new generation of photographers with brands and businesses worldwide is working with Adobe to bring the valued features of Lightroom to the Snapwire community. This collaboration will give Snapwire photographers the ability to harness Adobe's Creative SDK, giving its users one of the best image editing tool kits available on the photographer centric platform. With Snapwire 2.3.0 app update photographers will be able to perfect their compositions with free Lightroom presets, adjust photos using some of the most popular tools in Adobe Photoshop® CC and Lightroom, and submit photos to their Snapwire portfolios, Challenges, or Requests directly from iPhone Camera, Camera Roll, cloud or Creative Cloud.
"We are thrilled to be working with Adobe to integrate its Creative SDK on our platform," said Chad Newell, CEO of Snapwire. "Adobe has the lens on what photographers want when they go to manipulate and change photos. If you're using Adobe products, you already understand the power of the creative tools in the first place. Encouraging photographers who use Adobe in their workflow makes this a seamless collaboration for us."
The new Snapwire application will be revealed at the Adobe MAX show in Los Angeles. For Adobe, pushing products onto mobile remains a priority and collaborations are one of the best market approaches to do it.
"Snapwire does some really innovative work utilizing our Creative SDK", said Jacob Surber, senior product manager for Adobe's Creative SDK Ecosystem. "This is just part of our innovation. Stay tuned for more updates next week at Adobe MAX, The Creativity Conference."
New Features

Harnessing Adobe Technology: Snapwire users will now be able to harness the same technology found in Adobe Photoshop® CC and Lightroom (as well as similar technology to Photoshop Express) including:
– Lightroom Presets
– Adjustment tools: Temperature, Tint, Exposure, Contrast, Highlights, Shadows, Clarity, Vibrance, Sharpen, Reduce Noise
– Red Eye Tool
– Crop, Rotate, Flip

Upright Capability on Mobile: Snapwire is now one of the first apps that will utilize Lightroom's signature Upright capability on mobile to automatically correct perspective and rotation on photos.
Enhancing Existing Creative Cloud Photos: For photographers already storing photos in Creative Cloud, this integration will allow users to seamlessly edit and upload photos to Snapwire.
"In addition to photographers, we're also excited about how this will impact buyers," said Newell. "For our buyers, photos being sourced from Adobe Creative Cloud® are more likely to be higher quality than those that may not, just by virtue of the photographer using the Adobe tool set to enhance their images. We're currently using the Adobe Creative SDK, but working towards a long, deep, lasting relationship with Adobe Creative Cloud customers."
In addition to the Adobe integration, this update marks the localization of Snapwire's iOS application in nine languages (Spanish, Portuguese, French, Italian, German, Russian, Chinese, Japanese and English), giving way for Snapwire's international plans with their first international office opening in Tokyo, incubated by gram30, on Oct 1, 2014. Japan-based buyers will now be able to launch localized photo requests which will be broadcasted on Snapwire in Japanese.
Snapwire will be demoing in the Creative Community Pavilion at Adobe MAX in Los Angeles, Oct 4-8, 2014 alongside the other Adobe partners. Users who sign up for the service can participate in Adobe Creative Challenge on Snapwire.
About Snapwire
Snapwire is a platform that connects a new generation of photographers with brands, publishers, small businesses, and creatives around the world. Photo buyers post a request for authentic photography and photographers compete, earn points and receive up to 70% on their photo sales. The company is located in Santa Barbara, CA.